Heavy Duty
Adjustable-Height

Steel Tables
Support 3,000 to 5,000 lbs. with these welded tables. The durable steel top won't warp or splinter. Use these tables as a work surface for machines and equipment. They can be configured for either seated or standing tasks. Adjust height in 2" increments by removing and repositioning the leg bolts.
Tables with shelf have a fixed lower shelf that always remains the same distance from the tabletop regardless of table height.
Equipped with casters, move mobile tables around your space. They have a 1 1/2" lip on three sides to prevent items from sliding off.
For technical drawings and 3-D models, click on a part number.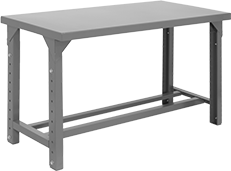 Stationary Table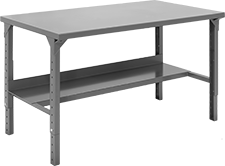 Stationary Table with Shelf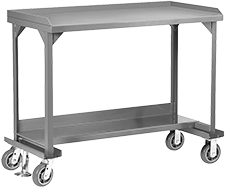 Mobile Table with Shelf
Ht.

Wd.

Dp.

Lip


Ht.

Top
Shelf
Overall
Type

Dp.

Material
Color
Gauge

Ctr.-to-Ctr.

Type
Assembled
or
Unassembled
Each

Stationary Tables

27"-41"
48"
24"
__
5,000
__
5,000
__
__
Powder-Coated Steel
Gray
12
2"
Bolt
Assembled
0000000
0000000
27"-41"
48"
30"
__
5,000
__
5,000
__
__
Powder-Coated Steel
Gray
12
2"
Bolt
Assembled
0000000
000000
27"-41"
60"
24"
__
4,500
__
4,500
__
__
Powder-Coated Steel
Gray
12
2"
Bolt
Assembled
0000000
000000
27"-41"
60"
30"
__
4,500
__
4,500
__
__
Powder-Coated Steel
Gray
12
2"
Bolt
Assembled
0000000
000000
27"-41"
60"
36"
__
4,500
__
4,500
__
__
Powder-Coated Steel
Gray
12
2"
Bolt
Assembled
0000000
000000
27"-41"
72"
30"
__
4,000
__
4,000
__
__
Powder-Coated Steel
Gray
12
2"
Bolt
Assembled
0000000
000000
27"-41"
72"
36"
__
4,000
__
4,000
__
__
Powder-Coated Steel
Gray
12
2"
Bolt
Assembled
0000000
000000
27"-41"
84"
36"
__
3,000
__
3,000
__
__
Powder-Coated Steel
Gray
12
2"
Bolt
Assembled
0000000
000000

Stationary Tables with Shelf

27"-41"
48"
24"
__
5,000
500
5,500
Fixed
12"
Powder-Coated Steel
Gray
12
2"
Bolt
Assembled
0000000
000000
27"-41"
48"
30"
__
5,000
500
5,500
Fixed
15"
Powder-Coated Steel
Gray
12
2"
Bolt
Assembled
0000000
000000
27"-41"
60"
24"
__
4,500
500
5,000
Fixed
12"
Powder-Coated Steel
Gray
12
2"
Bolt
Assembled
0000000
000000
27"-41"
60"
30"
__
4,500
500
5,000
Fixed
15"
Powder-Coated Steel
Gray
12
2"
Bolt
Assembled
0000000
000000
27"-41"
60"
36"
__
4,500
500
5,000
Fixed
18"
Powder-Coated Steel
Gray
12
2"
Bolt
Assembled
0000000
000000
27"-41"
72"
30"
__
4,000
500
4,500
Fixed
15"
Powder-Coated Steel
Gray
12
2"
Bolt
Assembled
0000000
000000
27"-41"
72"
36"
__
4,000
500
4,500
Fixed
18"
Powder-Coated Steel
Gray
12
2"
Bolt
Assembled
0000000
000000
27"-41"
84"
36"
__
3,000
500
3,500
Fixed
18"
Powder-Coated Steel
Gray
12
2"
Bolt
Assembled
0000000
000000

Mobile Tables with Shelf

33"-41"
48"
24"
1

1/2

"
3,100
500
3,600
Fixed
12"
Powder-Coated Steel
Gray
12
2"
Bolt
Assembled
0000000
000000
33"-41"
48"
30"
1

1/2

"
3,100
500
3,600
Fixed
15"
Powder-Coated Steel
Gray
12
2"
Bolt
Assembled
0000000
000000
33"-41"
60"
24"
1

1/2

"
3,100
500
3,600
Fixed
12"
Powder-Coated Steel
Gray
12
2"
Bolt
Assembled
0000000
000000
33"-41"
60"
30"
1

1/2

"
3,100
500
3,600
Fixed
15"
Powder-Coated Steel
Gray
12
2"
Bolt
Assembled
0000000
000000
33"-41"
60"
36"
1

1/2

"
3,100
500
3,600
Fixed
18"
Powder-Coated Steel
Gray
12
2"
Bolt
Assembled
0000000
000000
33"-41"
72"
30"
1

1/2

"
3,100
500
3,600
Fixed
15"
Powder-Coated Steel
Gray
12
2"
Bolt
Assembled
0000000
000000
33"-41"
72"
36"
1

1/2

"
3,100
500
3,600
Fixed
18"
Powder-Coated Steel
Gray
12
2"
Bolt
Assembled
0000000
00000000
Optional Pegboards for Stationary Tables
Optional Bin-Box Racks for Stationary Tables