Heavy Duty
Adjustable-Height

Workbench Legs
Use two legs for a capacity of 6,000 lbs. Remove and reposition the bolts to adjust height in 1" increments. All legs have leveling feet to compensate for uneven floors and knockouts in the front and back to accept duplex electrical outlets.
At least three workbench legs are required for tops 96" wide and larger.
For technical drawings and 3-D models, click on a part number.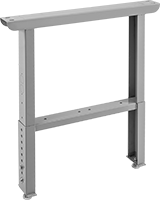 For
Top


Dp.

Ht.

Ctr.-to-Ctr.

Type

Cap.

per


Leg,




lbs.

Material
Color
Gauge

Dia.




(No. of)

Fasteners
Included

Dia.




(No. of)

Fasteners
Included
Each

Stationary

28"-30"
29

1/4

"-35

1/4

"
1"
Bolt
3,000
Powder-Coated Steel
Gray
14

5/16

" (4)
No

7/16

" (2),

3/8

" (4)
No
0000000
0000000
34"-36"
29

1/4

"-35

1/4

"
1"
Bolt
3,000
Powder-Coated Steel
Gray
14

5/16

" (4)
No

7/16

" (2),

3/8

" (4)
No
0000000
000000

Wd.

Dp.

Wd.

Dp.

Ht.

Material
Color
Gauge

Cap.,




lbs.

Fasteners
Included

No.

of
Holes
Hole


Dia.

Each
48"
28"-36"
44"
13

1/2

"
1"
Powder-Coated Steel
Gray
16
330
No
4

5/16

"
0000000
000000
60"
28"-36"
56"
13

1/2

"
1"
Powder-Coated Steel
Gray
16
230
No
4

5/16

"
00000000
00000
72"
28"-36"
68"
13

1/2

"
1"
Powder-Coated Steel
Gray
16
230
No
4

5/16

"
00000000
000000