Heavy Duty Cabinet Workbench Bases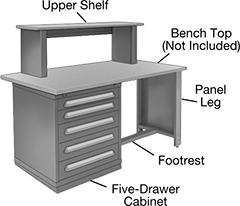 Store your heaviest tools and parts in these bases. Pair bases with a workbench top.
Bases have a single cylinder lock that locks all drawers at once.
Panel legs support the bench top when using only one drawer base. They have knockouts to accept duplex electrical outlets.
Footrest attaches to cabinets and panel legs. It has pre-punched holes to adjust the width.