Heavy Duty
Large-Capacity

Cabinet Workbenches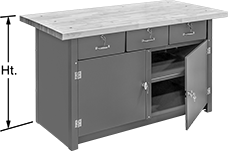 A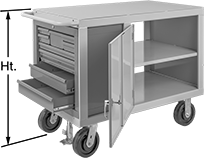 B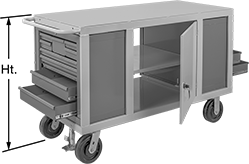 C

Maple Top

Gray Steel Top
Reinforced for strength and durability, these workbenches can hold twice the weight of our standard large-capacity cabinet workbenches.
Style A have a keyed lock on all doors and drawers.
Styles B and C have one door in front and one door in back, each with a locking handle. For added security, the drawers can be concealed behind a locking panel that slides out of the way when not in use. A floor lock keeps these workbenches in place.
Style

Wd.

Dp.

Ht.

O'all




Cap.,




lbs.

Top


Cap.,




lbs.

Type

Cap.,




lbs.

Color

No.


of

Wd.

Dp.

Ht.

Assembled
or
Unassembled
Each
Each

Stationary

Lacquer-Coated

Maple Top with

Green-Painted

Steel Frame

A
60"
30"
33

3/4

"
10,950
10,000
Fixed
800
Green
3
14"
22"
6"
Unassembled
0000000
000000000
000000
00
A
72"
30"
33

3/4

"
10,950
10,000
Fixed
800
Green
3
20"
20"
6"
Unassembled
0000000
00000000
000000
00

Mobile

Gray

Powder-Coated

Steel Top with Gray

Powder-Coated

Steel Frame

B
48"
28"
38

1/2

"
4,000
4,000
Fixed
800
Red
4
1
2
2
6

1/2

"
6

1/2

"
21

1/2

"
21

1/2

"
16"
16"
16"
16"
1

3/4

"
3

1/2

"
1

3/4

"
3

1/2

"
Assembled
0000000
00000000
0000000
000000
C
60"
28"
38

1/2

"
4,000
4,000
Fixed
800
Red
8
2
4
4
6

1/2

"
6

1/2

"
21

1/2

"
21

1/2

"
16"
16"
16"
16"
1

3/4

"
3

1/2

"
1

3/4

"
3

1/2

"
Assembled
0000000
00000000
0000000
00000