Heavy Duty
Stand-Up-Height

Workstations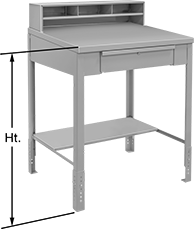 A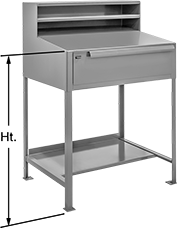 B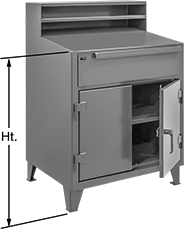 C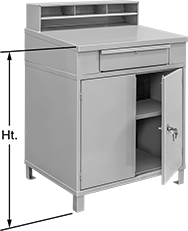 D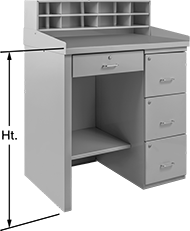 E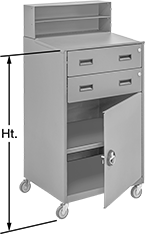 F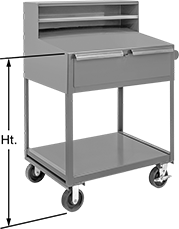 G
These workstations have almost twice the top capacity of our standard stand-up-height workstations. All doors and drawers can be locked.
Style E have file drawers to accommodate hanging files.
Style F have a lip on the front of the work surface to keep items from rolling off.
Style G have a floor lock to keep the workstation in place.
Style

Wd.

Dp.

Ht.

Ht.

Style

Dp.

Top


Cap.,




lbs.

Type

Dp.

Cap.,




lbs.

Wd.

Dp.

Ht.

No.


of

Wd.

Dp.

Ht.

Assembled
or
Unassembled
Each

Stationary—

Adjustable-Height

A
35"
30"
51

3/4

"
36

3/4

"-42

3/4

"
Sloped
22

1/2

"
400
Fixed
15"
130
__
__
__
1
20"
24"
5"
Assembled
00000000
0000000

Stationary

Gray Painted Steel

B
36"
28"
54"
42"
Sloped
17

3/4

"
1,600
Fixed
20"
950
__
__
__
1
29"
20"
6"
Assembled
0000000
00000000
C
36"
28"
54"
42"
Sloped
17

3/4

"
1,600
Adjustable
25

1/2

"
2,250
36"
28"
36"
1
29"
20"
6"
Assembled
0000000
00000000
D
35"
30"
50

1/4

"
41

1/4

"
Sloped
22

1/2

"
400
Adjustable
28"
130
35"
30"
30"
1
20"
24"
5"
Assembled
0000000
000000
E
39"
28"
53

1/2

"
42"
Flat
20"
1,000
Fixed
20"
250
__
__
__
1
3
20"
12"
23"
22

1/2

"
5"
9"
Assembled
0000000
00000000

Mobile

F
23"
20"
51"
42"
Sloped
14"
500
Fixed
17

3/4

"
50
23"
20"
20

1/2

"
2
20

3/4

"
19

1/2

"
6"
Assembled
00000000
000000

Gray Painted Steel

G
36"
28"
54"
42"
Sloped
17

3/4

"
1,900
Fixed
27

3/4

"
950
__
__
__
1
29"
20"
6"
Assembled
0000000
00000000