Hydraulic Lift Kits for Workbenches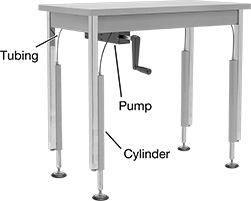 Stationary Kit with Hand Crank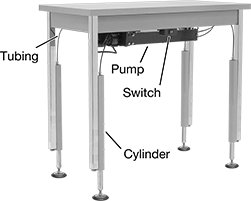 Stationary Kit with Electric Motor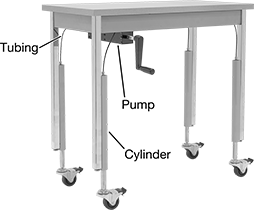 Mobile Kit with Hand Crank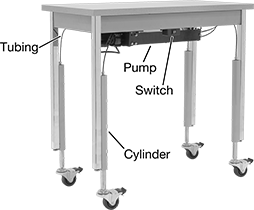 Mobile Kit with Electric Motor
Transform a fixed-height workbench into an adjustable-height workbench with one of these kits. They allow for fine adjustments to the workbench height.
To install, attach each cylinder to the workbench legs with fasteners (not included). Then, mount the pump under the workbench top and connect the cylinders to the pump with included tubing.
Stationary kits have leveling feet to compensate for uneven floors.
Kits with electric motor adjust height with the push of a button.
For


Min.


Leg

Ht.

Ht.


Added

Wd.

Material

Cap.,




lbs.

No.


of

Dia.

No.


of

Dia.

No.


of

Dia.

Mtg.


Fasteners
Included
Cord


Lg.

Specifications
Met
Each

Stationary

Hand Crank

13

1/4

"
1

5/8

"-7

5/8

"
1

1/2

"
Aluminum
1,000
4

1/4

"
3

3/8

"
__
__
No
__
CSA Certified, UL Listed
00000000
0000000
15

1/4

"
1

5/8

"-9

5/8

"
1

1/2

"
Aluminum
1,000
4

1/4

"
3

3/8

"
__
__
No
__
CSA Certified, UL Listed
00000000
000000
19

1/4

"
1

5/8

"-13

5/8

"
1

1/2

"
Aluminum
1,000
4

1/4

"
3

3/8

"
__
__
No
__
CSA Certified, UL Listed
00000000
000000
23

1/4

"
1

5/8

"-17

5/8

"
1

1/2

"
Aluminum
1,000
4

1/4

"
3

3/8

"
__
__
No
__
CSA Certified, UL Listed
00000000
000000

Electric Motor with Three Prong Plug

(120V AC)

13

1/4

"
1

5/8

"-7

5/8

"
1

1/2

"
Aluminum
1,000
4

1/4

"
7

1/4

"
2

3/16

"
No
8 ft.
CSA Certified, UL Listed
00000000
00000000
15

1/4

"
1

5/8

"-9

5/8

"
1

1/2

"
Aluminum
1,000
4

1/4

"
7

1/4

"
2

3/16

"
No
8 ft.
CSA Certified, UL Listed
00000000
00000000
19

1/4

"
1

5/8

"-13

5/8

"
1

1/2

"
Aluminum
1,000
4

1/4

"
7

1/4

"
2

3/16

"
No
8 ft.
CSA Certified, UL Listed
00000000
00000000
23

1/4

"
1

5/8

"-17

5/8

"
1

1/2

"
Aluminum
1,000
4

1/4

"
7

1/4

"
2

3/16

"
No
8 ft.
CSA Certified, UL Listed
00000000
00000000

Mobile

Hand Crank

13

1/4

"
4

7/8

"-10

7/8

"
1

1/2

"
Aluminum
1,000
4

1/4

"
3

3/8

"
__
__
No
__
CSA Certified, UL Listed
00000000
000000
15

1/4

"
4

7/8

"-12

7/8

"
1

1/2

"
Aluminum
1,000
4

1/4

"
3

3/8

"
__
__
No
__
CSA Certified, UL Listed
00000000
000000
19

1/4

"
4

7/8

"-16

7/8

"
1

1/2

"
Aluminum
1,000
4

1/4

"
3

3/8

"
__
__
No
__
CSA Certified, UL Listed
00000000
000000
23

1/4

"
4

7/8

"-20

7/8

"
1

1/2

"
Aluminum
1,000
4

1/4

"
3

3/8

"
__
__
No
__
CSA Certified, UL Listed
00000000
000000

Electric Motor with Three Prong Plug

(120V AC)

13

1/4

"
4

7/8

"-10

7/8

"
1

1/2

"
Aluminum
1,000
4

1/4

"
7

1/4

"
2

3/16

"
No
8 ft.
CSA Certified, UL Listed
00000000
00000000
15

1/4

"
4

7/8

"-12

7/8

"
1

1/2

"
Aluminum
1,000
4

1/4

"
7

1/4

"
2

3/16

"
No
8 ft.
CSA Certified, UL Listed
00000000
00000000
19

1/4

"
4

7/8

"-16

7/8

"
1

1/2

"
Aluminum
1,000
4

1/4

"
7

1/4

"
2

3/16

"
No
8 ft.
CSA Certified, UL Listed
00000000
00000000
23

1/4

"
4

7/8

"-20

7/8

"
1

1/2

"
Aluminum
1,000
4

1/4

"
7

1/4

"
2

3/16

"
No
8 ft.
CSA Certified, UL Listed
00000000
00000000
| | | | |
| --- | --- | --- | --- |
| Replacement Handles for Lift Kits with Hand Crank | 00000000 | Each | 0000000 |
| Optional Maintenance Kit (Includes 10 Nuts and Ferrules, 16 oz. of Hydraulic Fluid, 36 ft. of Hydraulic Tubing, 8-oz. Filler Bottle with Needle) | 00000000 | Each | 00000 |
| Replacement Leveling Feet for Stationary Lift Kits | 000000000 | Each | 0000 |
| Replacement Gear Motor for Lift Kits with Electric Motor | 000000000 | Each | 000000 |
| Replacement Switch Assemblies for Lift Kits with Electric Motor | 00000000 | Each | 000000 |

For

Min.


Leg

Ht.

Ht.

Added

Wd.

Material

No.


of

Dia.

Each

For Stationary Lift Kits

13

1/4

"
1

5/8

"-7

5/8

"
1

1/2

"
Aluminum
4

1/4

"
000000000
0000000
15

1/4

"
1

5/8

"-9

5/8

"
1

1/2

"
Aluminum
4

1/4

"
000000000
000000
19

1/4

"
1

5/8

"-13

5/8

"
1

1/2

"
Aluminum
4

1/4

"
000000000
000000
23

1/4

"
1

5/8

"-17

5/8

"
1

1/2

"
Aluminum
4

1/4

"
000000000
000000

For Mobile Lift Kits

13

1/4

"
4

7/8

"-10

7/8

"
1

1/2

"
Aluminum
4

1/4

"
000000000
000000
15

1/4

"
4

7/8

"-12

7/8

"
1

1/2

"
Aluminum
4

1/4

"
000000000
000000
19

1/4

"
4

7/8

"-16

7/8

"
1

1/2

"
Aluminum
4

1/4

"
00000000
000000
23

1/4

"
4

7/8

"-20

7/8

"
1

1/2

"
Aluminum
4

1/4

"
000000000
000000
Replacement Casters for Mobile Lift Kits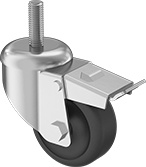 Dia.

Wd.

Cap.

per


Caster,

lbs.

Stem
Thread Size

Stem


Lg.

Wheel/Tread

Material
Frame
Material
Caster Type
Each
3"
1

1/4

"
300

1/2

"-13

1

1/2

"
Polypropylene Plastic
Steel
Swivel with Brake
000000000
000000