Large-Capacity

Cabinet Workbenches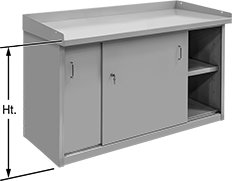 A
D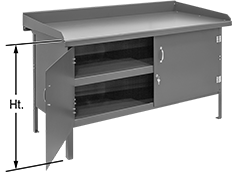 B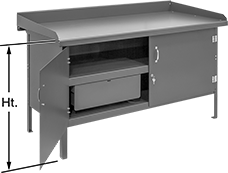 C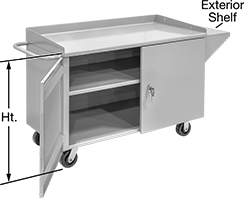 E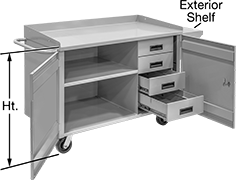 F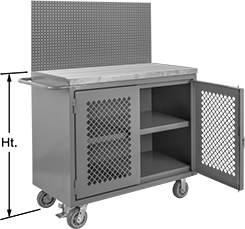 G (Shown with Optional Pegboard)

Gray Steel Top

Green Steel Top


Maple Top
At 48" wide and greater, these workbenches have a larger work surface and more storage than our standard cabinet workbenches. All doors have a keyed lock, and all drawers have a padlock hasp to accept a padlock. Workbenches with a backstop and side stops prevent work from falling off the top.
Ash and maple tops are nonconductive and impact resistant.
Workbenches with plastic wheels are nonmarking.
Style G have a floor lock to keep the workbench in place. They can be paired with the optional pegboard or bin-box rack, both of which come with mounting brackets.
Style

Wd.

Dp.

Ht.

Backstop


Ht.

O'all




Cap.,




lbs.

Top


Cap.,




lbs.

Type

Cap.,




lbs.

No.


of

Wd.

Dp.

Ht.

Wheel
Material
Assembled
or
Unassembled
Each

Stationary

Gray

Powder-Coated

Steel Top with Gray

Powder-Coated

Steel Frame

A
60"
28"
34"
3"
3,000
2,500
Adjustable
500
__
__
__
__
__
Assembled
0000000
0000000
A
72"
28"
34"
3"
3,000
2,500
Adjustable
500
__
__
__
__
__
Assembled
0000000
00000000
D
72"
28"
34"
__
4,600
3,000
__
__
16
14"
23

1/2

"
5"
__
Assembled
0000000
00000000

Green-Painted

Steel Top with

Green-Painted

Steel Frame

B
60"
29"
32

1/4

"
3

3/4

"
4,800
4,000
Fixed
800
__
__
__
__
__
Unassembled
0000000
00000000
C
60"
29"
32

1/4

"
3

3/4

"
4,875
4,000
Fixed
800
1
20"
20"
6"
__
Unassembled
0000000
00000000

Brown Woodgrain

Polyurethane-Coated

Ash Top with Gray

Powder-Coated

Steel Frame

D
72"
30"
34"
__
4,600
3,000
__
__
16
14"
23

1/2

"
5"
__
Assembled
0000000
00000000

Mobile

Gray

Powder-Coated

Steel Top with Gray

Powder-Coated

Steel Frame

E
48"
26"
34"
3"
2,000
2,000
Fixed
1,000
__
__
__
__
Plastic
Assembled
0000000
00000000
F
48"
26"
34"
3"
2,000
2,000
Fixed
1,000
4
14"
23

1/2

"
5"
Plastic
Assembled
0000000
00000000
F
48"
26"
34"
3"
2,000
2,000
Fixed
1,000
4
14"
23

1/2

"
5"
Steel
Assembled
0000000
00000000

Brown Woodgrain

Oil-Coated

Maple Top with Gray

Powder-Coated

Steel Frame

G
48"
24"
43"
__
3,000
1,200
Fixed
1,000
__
__
__
__
Polyurethane Rubber
Assembled
0000000
00000000