Low-Profile

Stainless Steel Tables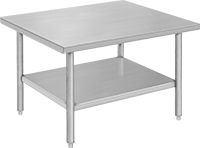 Stationary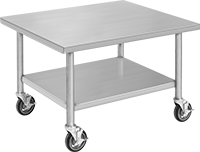 Mobile
Often used in laboratories, these tables stand up to repeated washdowns and won't corrode from grease and chemicals. Use them to elevate machinery and equipment up to 24" from the floor.
Tables that meet NSF/ANSI standards can also be used in food service.
Stationary tables have leveling feet to compensate for uneven floors.
For technical drawings and 3-D models, click on a part number.
Ht.

Wd.

Dp.

Top
Shelf
Overall
Type
Material
Gauge

Dp.

Clearance
Material
Gauge
Specifications
Met
Assembled
or
Unassembled
Each

Stationary

24"
24"
24"
300
95
375
Fixed
Stainless Steel
18
21"
12

1/2

"
Stainless Steel
16
NSF/ANSI 2

Assembled
00000000
0000000
24"
30"
24"
375
120
475
Fixed
Stainless Steel
18
21"
12

1/2

"
Stainless Steel
16
NSF/ANSI 2

Assembled
00000000
00000000
24"
30"
30"
450
150
600
Fixed
Stainless Steel
18
29"
12

1/2

"
Stainless Steel
16
NSF/ANSI 2

Assembled
00000000
00000000
24"
36"
30"
550
180
725
Fixed
Stainless Steel
18
29"
12

1/2

"
Stainless Steel
16
NSF/ANSI 2

Assembled
00000000
00000000
24"
48"
30"
750
280
1,025
Fixed
Stainless Steel
18
29"
12

1/2

"
Stainless Steel
16
NSF/ANSI 2

Assembled
00000000
00000000

Mobile

21

1/4

"
24"
20"
200
200
400
Fixed
Stainless Steel
18
17"
9

1/2

"
Stainless Steel
18
__
Assembled
0000000
000000
21

1/4

"
32"
24"
200
200
400
Fixed
Stainless Steel
18
21"
9

1/2

"
Stainless Steel
18
__
Assembled
0000000
00000000
24"
24"
24"
300
95
300
Fixed
Stainless Steel
18
21"
12

1/2

"
Stainless Steel
16
NSF/ANSI 2

Assembled
00000000
00000000
24"
30"
24"
375
120
375
Fixed
Stainless Steel
18
21"
12

1/2

"
Stainless Steel
16
NSF/ANSI 2

Assembled
00000000
00000000
24"
30"
30"
450
150
450
Fixed
Stainless Steel
18
29"
12

1/2

"
Stainless Steel
16
NSF/ANSI 2

Assembled
00000000
00000000
24"
36"
30"
550
180
550
Fixed
Stainless Steel
18
29"
12

1/2

"
Stainless Steel
16
NSF/ANSI 2

Assembled
00000000
00000000
24"
48"
30"
750
280
750
Fixed
Stainless Steel
18
29"
12

1/2

"
Stainless Steel
16
NSF/ANSI 2

Assembled
00000000
00000000