Plastic Cabinet Workbenches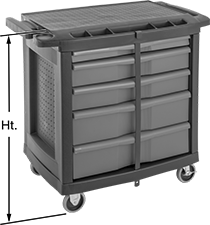 A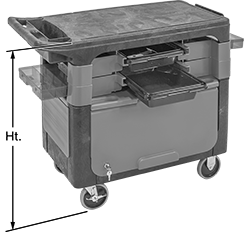 B
These workbenches are dent and rust resistant.
Style A include a locking bar that slides in front of the drawers and can be secured with a padlock.
Style B have a locking cabinet door, two removable bins that slide out from either side, and four removable compartmented boxes, two at each end.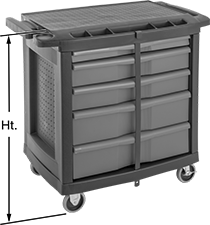 A
Wd.

Dp.

Ht.

O'all




Cap.,




lbs.

Top


Cap.,




lbs.

Frame
Color
Color

No.


of

Wd.

Dp.

Ht.

Type
Included
Assembled
or
Unassembled
Each
27"
14

1/4

"
33

1/2

"
250
150
Black
Red
1
2
2
22"
22"
22"
16

1/2

"
16

1/2

"
16

1/2

"
2"
4"
6"
Padlockable
No
Assembled
00000000
0000000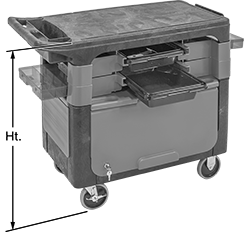 B
Wd.

Dp.

Ht.

O'all




Cap.,




lbs.

Top


Cap.,




lbs.

Frame
Color
Type

Dp.

Clearance

Cap,




lbs.

Type
Included
Assembled
or
Unassembled
Each
28"
19

1/4

"
33

1/2

"
330
180
Black, Red
Fixed
19"
10

5/8

"
150
Keyed
Yes
Unassembled
0000000
0000000