Plastic Workbenches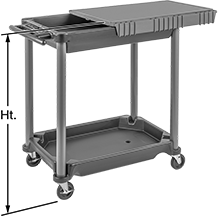 A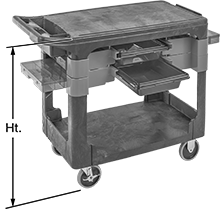 B
These workbenches have plastic frames that won't rust or dent.
Style A have a drainage hole and plug in both the top compartment and lower shelf. You can attach bin boxes along the edge of the sliding top. The top can also be removed and stored on the side.
Style B include two removable bins that slide out from either side and four removable compartmented boxes, two at each end.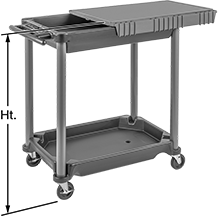 A
Wd.

Dp.

Ht.

O'all

Top
Material
Color
Top
Compartment
Inside

Ht.

Dp.

Lip


Ht.

Type
Included
Wheel
Configuration
Assembled
or
Unassembled
Each
32

1/4

"
20

1/4

"
39"
300
150
Plastic
Gray
3

1/4

"
17"
3"
Padlockable
No
Four Swivel Casters
Unassembled
000000
0000000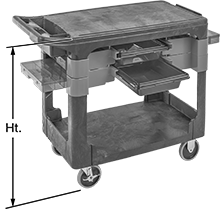 B
Wd.

Dp.

Ht.

O'all

Top
Material
Color

Dp.

Lip

Ht.

Wheel Configuration
Assembled or
Unassembled
Each
28"
19

1/4

"
33

1/2

"
330
180
Plastic
Black
19"
2

3/4

"
Two Swivel and Two Rigid Casters
Unassembled
0000000
0000000