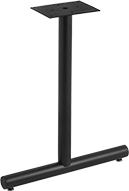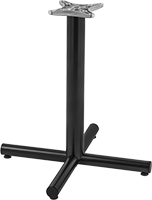 Stationary
Fixed-Height
X-Base

Adjustable-Height
Straight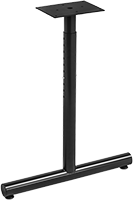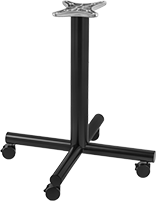 Mobile
Fixed-Height
X-Base
Replace a table leg or make a table with your own tabletop. To make a table, use four straight legs, two T-base legs, or one X-base leg.
Stationary legs have leveling feet to compensate for uneven floors.
Fixed-height legs are standard table height.
Adjustable-height legs raise up to 6" for a comfortable working height while seated. Push in a button and slide the leg to adjust height in 1" increments.
For

Max.


Top


Wd.

For


Max.


Top

Dp.

For

Max.


Top


Dia.

Leg


Dia.

O'all




Ht.

O'all




Wd.

O'all




Dp.

No.


Required
per Top
Material
Color

Cap.

per


Leg,




lbs.

Mounting
Fasteners
Included

No.


of

Dia.

Wd.

Dp.

Assembled
or
Unassembled
Each

Straight

60"
__
__
2"
28"
__
__
4
Powder Coated Steel
Black
75
No
8

9/32

"
6"
6"
Assembled
0000000
000000
60"
30"
__
2"
28"
__
22"
2
Powder Coated Steel
Black
150
No
8

9/32

"
6"
8"
Assembled
0000000
00000
60"
36"
__
2"
28"
__
26"
2
Powder Coated Steel
Black
150
No
8

9/32

"
6"
8"
Assembled
0000000
000000
30"
30"
36"
3"
28"
26"
26"
1
Powder Coated Steel
Black
300
No
8

9/32

"
10"
10"
Unassembled
0000000
000000

Stationary

Adjustable-Height

Straight

60"
__
__
2"
25"-34"
__
__
4
Powder Coated Steel
Black
75
No
8

9/32

"
6"
6"
Assembled
0000000
00000
60"
30"
__
2"
25"-34"
__
22"
2
Powder Coated Steel
Black
150
No
8

9/32

"
6"
8"
Assembled
0000000
000000
60"
36"
__
2"
25"-34"
__
26"
2
Powder Coated Steel
Black
150
No
8

9/32

"
6"
8"
Assembled
0000000
000000
30"
30"
36"
3"
28"
26"
26"
1
Powder Coated Steel
Black
300
No
8

9/32

"
10"
10"
Unassembled
0000000
000000