Ultra-Flat

Extra Heavy Duty Steel Tables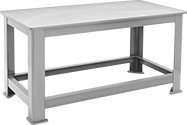 With a flatness tolerance of 0.002" per foot, these tables provide an accurate reference surface for layout and inspection work. They have a thick steel frame and welded construction to support 35,000 lbs.
30" and 32" high tables are standard table height. 34" and 36" high tables are the same height as most workbenches, making them a comfortable height for most standing tasks.
For technical drawings and 3-D models, click on a part number.
Ht.

Wd.

Dp.

Overall


Capacity,

lbs.

Material

Thick.

Flatness
Tolerance
Mounting
Fasteners Included
Assembled or
Unassembled
Each
30"
24"
24"
35,000
Steel

3/4

"
0.002" per foot
No
Assembled
00000000
000000000
30"
30"
24"
35,000
Steel

3/4

"
0.002" per foot
No
Assembled
00000000
00000000
30"
30"
30"
35,000
Steel

3/4

"
0.002" per foot
No
Assembled
00000000
00000000
30"
36"
24"
35,000
Steel

3/4

"
0.002" per foot
No
Assembled
00000000
00000000
30"
36"
30"
35,000
Steel

3/4

"
0.002" per foot
No
Assembled
00000000
00000000
30"
48"
30"
35,000
Steel

3/4

"
0.002" per foot
No
Assembled
00000000
00000000
30"
48"
36"
35,000
Steel

3/4

"
0.002" per foot
No
Assembled
00000000
00000000
30"
48"
48"
35,000
Steel
1"
0.002" per foot
No
Assembled
00000000
00000000
30"
60"
30"
35,000
Steel

3/4

"
0.002" per foot
No
Assembled
00000000
00000000
30"
72"
30"
35,000
Steel

3/4

"
0.002" per foot
No
Assembled
00000000
00000000
32"
24"
24"
35,000
Steel

3/4

"
0.002" per foot
No
Assembled
00000000
00000000
32"
30"
24"
35,000
Steel

3/4

"
0.002" per foot
No
Assembled
00000000
00000000
32"
30"
30"
35,000
Steel

3/4

"
0.002" per foot
No
Assembled
00000000
00000000
32"
36"
24"
35,000
Steel

3/4

"
0.002" per foot
No
Assembled
00000000
00000000
32"
36"
30"
35,000
Steel

3/4

"
0.002" per foot
No
Assembled
00000000
00000000
32"
48"
30"
35,000
Steel

3/4

"
0.002" per foot
No
Assembled
00000000
00000000
32"
48"
36"
35,000
Steel

3/4

"
0.002" per foot
No
Assembled
00000000
00000000
32"
48"
48"
35,000
Steel
1"
0.002" per foot
No
Assembled
00000000
00000000
32"
60"
30"
35,000
Steel

3/4

"
0.002" per foot
No
Assembled
00000000
00000000
32"
72"
30"
35,000
Steel

3/4

"
0.002" per foot
No
Assembled
00000000
00000000
34"
24"
24"
35,000
Steel

3/4

"
0.002" per foot
No
Assembled
00000000
00000000
34"
30"
24"
35,000
Steel

3/4

"
0.002" per foot
No
Assembled
00000000
00000000
34"
30"
30"
35,000
Steel

3/4

"
0.002" per foot
No
Assembled
00000000
00000000
34"
36"
24"
35,000
Steel

3/4

"
0.002" per foot
No
Assembled
00000000
00000000
34"
36"
30"
35,000
Steel

3/4

"
0.002" per foot
No
Assembled
00000000
00000000
34"
48"
30"
35,000
Steel

3/4

"
0.002" per foot
No
Assembled
00000000
00000000
34"
48"
36"
35,000
Steel

3/4

"
0.002" per foot
No
Assembled
00000000
00000000
34"
48"
48"
35,000
Steel
1"
0.002" per foot
No
Assembled
00000000
00000000
34"
60"
30"
35,000
Steel

3/4

"
0.002" per foot
No
Assembled
00000000
00000000
34"
72"
30"
35,000
Steel

3/4

"
0.002" per foot
No
Assembled
00000000
00000000
36"
24"
24"
35,000
Steel

3/4

"
0.002" per foot
No
Assembled
00000000
00000000
36"
30"
24"
35,000
Steel

3/4

"
0.002" per foot
No
Assembled
00000000
00000000
36"
30"
30"
35,000
Steel

3/4

"
0.002" per foot
No
Assembled
00000000
00000000
36"
36"
24"
35,000
Steel

3/4

"
0.002" per foot
No
Assembled
00000000
00000000
36"
36"
30"
35,000
Steel

3/4

"
0.002" per foot
No
Assembled
00000000
00000000
36"
48"
30"
35,000
Steel

3/4

"
0.002" per foot
No
Assembled
00000000
00000000
36"
48"
36"
35,000
Steel

3/4

"
0.002" per foot
No
Assembled
00000000
00000000
36"
48"
48"
35,000
Steel
1"
0.002" per foot
No
Assembled
00000000
00000000
36"
60"
30"
35,000
Steel

3/4

"
0.002" per foot
No
Assembled
00000000
00000000
36"
72"
30"
35,000
Steel

3/4

"
0.002" per foot
No
Assembled
00000000
00000000