Workbenches with Cabinet Bases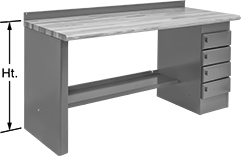 A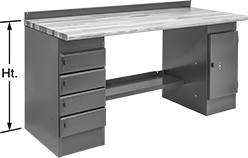 B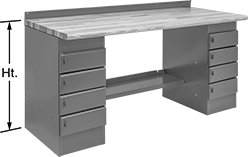 C
D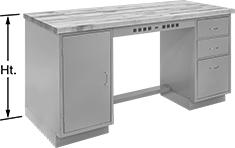 E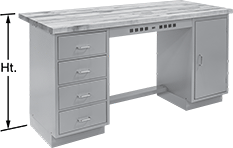 F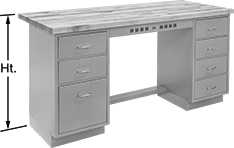 G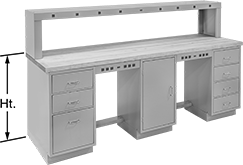 H

Steel Top

Maple Top

Plastic Laminate Top
These workbenches have bases with a combination of drawers and doors that offer plenty of storage options for tools and parts.
Styles A-C have a padlock hasp on all doors and drawers to add your own padlocks. Style A also have knockouts in the leg to accept duplex electrical outlets.
Styles D-H come with built-in outlets, a power switch, and a circuit breaker.
Optional upper shelves have electrical outlets and a power switch.
Workbenches with Backstops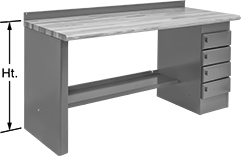 A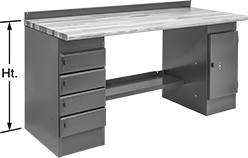 B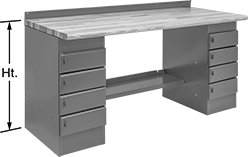 C

Steel Top

Maple Top
Style

Wd.

Dp.

Backstop


Ht.

O'all




Cap.,




lbs.

Top


Cap.,




lbs.

Type

Cap.,




lbs.

No.


of

Dp.

Ht.

Wd.

Assembled
or
Unassembled

Ht.

Each

0.105"

Thick.

Powder-Coated

Steel Top

Gray

Powder-Coated

Steel Frame

A
72"
30"
3"
1,740
1,500
__
__
4
23

1/2

"
6"
15"
Unassembled
34

1/4

"
0000000
000000000
B
72"
30"
3"
1,740
1,500
Fixed
100
4
23

1/2

"
6"
15"
Unassembled
34

1/4

"
0000000
00000000
C
72"
30"
3"
1,980
1,500
__
__
8
23

1/2

"
6"
15"
Unassembled
34

1/4

"
0000000
00000000

1.75"

Thick.

Lacquer Coated Maple Top

Gray

Powder-Coated

Steel Frame

A
72"
30"
3"
1,740
1,500
__
__
4
23

1/2

"
6"
15"
Unassembled
35

3/4

"
0000000
00000000
B
72"
30"
3"
1,740
1,500
Fixed
100
4
23

1/2

"
6"
15"
Unassembled
35

3/4

"
0000000
00000000
C
72"
30"
3"
1,980
1,500
__
__
8
23

1/2

"
6"
15"
Unassembled
35

3/4

"
0000000
00000000
Workbenches with Electrical Outlets
D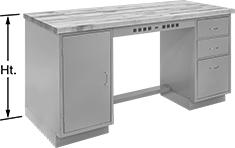 E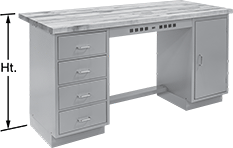 F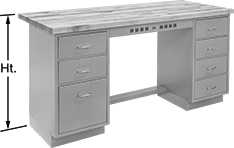 G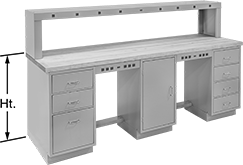 H

Plastic Laminate Top

Maple Top
Style

Wd.

Dp.

Ht.

O'all




Cap.,




lbs.

Top


Cap.,




lbs.

Type

Cap.,




lbs.

No.


of

Wd.

Dp.

Ht.

Assembled
or
Unassembled
Each

1.625"

Thick.

Plastic Laminate Top

Gray

Powder-Coated

Steel Frame

D
72"
30"
36

3/4

"
900
750
__
__
2
1
15"
15"
20

1/2

"
20

1/2

"
6

1/2

"
13

1/2

"
Unassembled
00000000
000000000
E
72"
30"
36

3/4

"
1,200
1,000
Adjustable
50
2
1
15"
15"
20

1/2

"
20

1/2

"
6

1/2

"
13

1/2

"
Unassembled
00000000
00000000
E
96"
30"
36

3/4

"
1,200
1,000
Adjustable
50
2
1
15"
15"
20

1/2

"
20

1/2

"
6

1/2

"
13

1/2

"
Unassembled
00000000
00000000
F
72"
30"
36

3/4

"
1,250
1,000
Adjustable
50
4
15"
20

1/2

"
6

1/2

"
Unassembled
00000000
00000000
F
96"
30"
36

3/4

"
1,250
1,000
Adjustable
50
4
15"
20

1/2

"
6

1/2

"
Unassembled
00000000
00000000
G
72"
30"
36

3/4

"
1,350
1,000
__
__
6
1
15"
15"
20

1/2

"
20

1/2

"
6

1/2

"
13

1/2

"
Unassembled
00000000
00000000
G
96"
30"
36

3/4

"
1,350
1,000
__
__
6
1
15"
15"
20

1/2

"
20

1/2

"
6

1/2

"
13

1/2

"
Unassembled
0000000
00000000
H
96"
30"
36

3/4

"
2,050
1,500
Adjustable
50
6
1
15"
15"
20

1/2

"
20

1/2

"
6

1/2

"
13

1/2

"
Unassembled
00000000
00000000

Gray

Powder-Coated

Steel Frame

D
72"
30"
36

3/4

"
900
750
__
__
2
1
15"
15"
20

1/2

"
20

1/2

"
6

1/2

"
13

1/2

"
Unassembled
00000000
00000000
E
72"
30"
36

3/4

"
1,200
1,000
Adjustable
50
2
1
15"
15"
20

1/2

"
20

1/2

"
6

1/2

"
13

1/2

"
Unassembled
00000000
00000000
E
96"
30"
36

3/4

"
1,200
1,000
Adjustable
50
2
1
15"
15"
20

1/2

"
20

1/2

"
6

1/2

"
13

1/2

"
Unassembled
00000000
00000000
F
72"
30"
36

3/4

"
1,250
1,000
Adjustable
50
4
15"
20

1/2

"
6

1/2

"
Unassembled
00000000
00000000
F
96"
30"
36

3/4

"
1,250
1,000
Adjustable
50
4
15"
20

1/2

"
6

1/2

"
Unassembled
00000000
00000000
G
72"
30"
36

3/4

"
1,350
1,000
__
__
6
1
15"
15"
20

1/2

"
20

1/2

"
6

1/2

"
13

1/2

"
Unassembled
00000000
00000000
G
96"
30"
36

3/4

"
1,350
1,000
__
__
6
1
15"
15"
20

1/2

"
20

1/2

"
6

1/2

"
13

1/2

"
Unassembled
0000000
00000000
H
96"
30"
36

3/4

"
2,050
1,500
Adjustable
50
6
1
15"
15"
20

1/2

"
20

1/2

"
6

1/2

"
13

1/2

"
Unassembled
00000000
00000000