Nonporous Alumina Ceramic Powder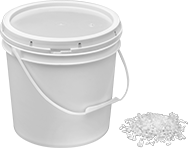 Color:

White
Temperature

Range:

0° F

to

3,630° F

Fabrication:

See table
Alumina ceramics withstand higher temperatures than any other ceramic and are highly chemical resistant. This powder is high purity, so it's inert even at high temperatures. Because alumina is ultra hard, it can be used in applications that require superior strength. It is also wear resistant, making it suitable for high-wear applications. Both thermally and electrically insulating, alumina can also be used in high-temperature and high-power electrical applications. Finished products made from alumina powder are nonporous, so they will seal out air and gas. Powder is often used in casting processes. Add it to slurries to create custom parts and tools such as crucibles, cutting tools, and laboratory ware. Alumina powder also is often used as a friction material, such as in brake linings.
Choose a particle size based on the application of your finished piece. Finer powders can be processed into finished pieces that will be harder, stronger, and more wear-resistant than those made with coarse grains. They may also have a finer finish. Parts made with coarse grain powders can be processed into pieces that are more porous and thermally shock-resistant than pieces made with finer grains. Mixing sizes can combine these properties.
99.3% aluminum oxide powder is slightly more reactive than 99.5% aluminum oxide powder because it's less pure. It's commonly used for polishing, lapping, and buffing.
99.5% aluminum oxide powder is more pure than 99.3% aluminum oxide, so it's less reactive. It's often used in the ceramic, glass, and foundry industries.

Certificates with a traceable lot number are available for these products. Download certificates from ACTIVITY after your order ships.
High-Temperature

Casting Compounds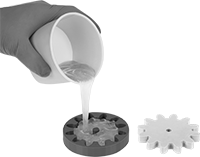 Capture intricate details when creating prototypes, molds, and linings with these easy-to-mix compounds.
Alumina is high strength.
High-purity alumina resists shrinking in casts, has a low level of contamination, and is a strong electrical insulator. It's often used for constructing furnaces and handling liquid metal.
View our selection of release agents.
Time to
Harden
Time
to Cure
Time to
Demold
Cure


Temperature,

°F

Max.




Temperature,




°F

Shrinkage
Color
Mixing
Required

Volume,




cu.




in.

Weight,




lbs.

Each

Alumina

20 min.
24 hrs.
24 hrs.
77°
3000°
1.5%
White
Yes
38
4
0000000
000000
20 min.
24 hrs.
24 hrs.
77°
3000°
1.5%
White
Yes
96
10
0000000
000000
20 min.
24 hrs.
24 hrs.
77°
3000°
1.5%
White
Yes
480
50
0000000
000000
20 min.
24 hrs.
24 hrs.
77°
3000°
1.5%
White
Yes
960
100
0000000
000000
25 min.
24 hrs.
24 hrs.
77°
3200°
1.5%
White
Yes
98
10
0000000
000000
25 min.
24 hrs.
24 hrs.
77°
3200°
1.5%
White
Yes
490
50
0000000
000000
Metal 3D Printer Powders

Produce detailed, difficult-to-fabricate metal parts faster, and with less material waste and tooling costs than machining. This powder creates corrosion-resistant and weldable parts that look similar to traditional machined parts, but do not have the same strength. Due to rapidly changing temperatures in the printing process, the parts can form stresses and pores that may lead to cracking. This powder cannot be heat treated. A material certificate with traceable lot number and test report to confirm the material composition is included.
Powder is compatible with powder bed fusion (PBF) printing systems, such as direct metal laser sintering (DMLS), selective laser melting (SLM), and electron beam melting (EBM).
316/316L stainless steel powder is more corrosion resistant than 718 nickel and AlSi10Mg aluminum. Use it for parts in marine, food-processing, and chemical-processing environments.
For the greatest strength in the highest temperatures, use 718 nickel powder to print parts for the most demanding applications, such as jet engines, gas turbines, and cryogenic chambers.
With a blend of aluminum, silicon, and magnesium, AlSi10Mg aluminum powder creates parts that are lightweight, yet strong to withstand stress from varying loads. Use it for parts that require thin walls, complex geometry, or need to support a load, such as gearboxes and brackets.
Size,


kg
Type
Material
Particle Size

Max.

Temp.

Each
10
Jar
Plastic
15-45 microns
Not Rated
0000000
0000000
Size,


kg
Type
Material
Particle Size

Max.

Temp.

Each
10
Jar
Plastic
15-45 microns
Not Rated
0000000
000000000
Size,


kg
Type
Material
Particle Size

Max.

Temp.

Each
5
Jar
Plastic
20-63 microns
Not Rated
0000000
0000000