Mounted Pulleys for Wire
Rope—

For Lifting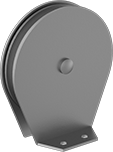 1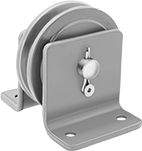 2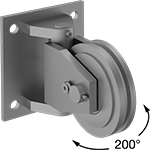 3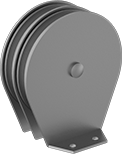 4


Mount these pulleys to a flat surface.
Pulleys with two grooves are for use in applications where multiple pulleys move a single load, such as block and tackle systems. They can reduce the force needed to move the load by up to two times compared to single-groove pulleys.
Pulleys with a bearing are easier to turn than pulleys without a bearing.
Stainless steel pulleys are more corrosion resistant than steel.
Style 3 pivots up to 200° for different pull directions.
Warning: Never use to lift people or items over people.
For technical drawings and 3-D models, click on a part number.
Style
For
Rope


Dia.

Capacity,




lbs.

OD

Wd.

Overall


Lg.

Overall


Ht.

Material

No.


of

Dia.

Ctr.-to-Ctr.




(A)

Ctr.-to-Ctr.




(B)

Specifications
Met
Each

Single-Groove

Without Bearing

1

3/16

"
600
2"

5/8

"
2"
2

3/8

"
Steel
4

3/16

"
1

7/16

"

11/16

"
ASME B30.26
0000000
000000
1

1/4

"
800
3"

5/8

"
3"
3

9/16

"
Steel
4

3/16

"
1

7/16

"

11/16

"
ASME B30.26
0000000
00000
1

5/16

"
1,550
3

1/2

"
1"
3

1/2

"
4

3/8

"
Steel
4

1/4

"
2

5/8

"
1"
ASME B30.26
0000000
00000
1

3/8

"
1,550
3

1/2

"
1"
3

1/2

"
4

3/8

"
Steel
4

1/4

"
2

5/8

"
1"
ASME B30.26
000000
00000

Single-Groove

With Bearing

2

1/4

"
3,500
4

1/4

"
5

1/4

"
4

1/4

"
4

1/2

"
Stainless Steel
4

3/8

"
2

3/8

"
3

7/16

"
ASME B30.26
0000000
000000
2

1/4

"
3,500
4

1/4

"
5

1/4

"
4

1/4

"
4

1/2

"
Steel
4

3/8

"
2

3/8

"
3

7/16

"
ASME B30.26
00000000
000000
2

3/8

"
7,000
6"
6

3/4

"
6"
6

1/2

"
Steel
4

1/2

"
3

1/4

"
4

13/16

"
ASME B30.26
00000000
000000
2

1/2

"
10,500
8"
8

7/8

"
8"
8

3/8

"
Steel
4

11/16

"
4

1/2

"
5

15/16

"
ASME B30.26
00000000
000000
3

1/4

"
3,500
4

1/4

"
4

23/32

"
5

5/16

"
6

21/32

"
Steel
4

1/2

"
3

15/16

"
3

1/2

"
ASME B30.26
0000000
000000
3

3/8

"
7,000
6"
7

1/4

"
9

3/4

"
10

1/4

"
Steel
4

9/16

"
8

1/2

"
5

7/8

"
ASME B30.26
0000000
000000

Double-Groove

Without Bearing

4

3/16

"
600
2"
1

7/32

"
2"
2

3/8

"
Steel
4

3/16

"
2"

11/16

"
ASME B30.26
0000000
00000
4

1/4

"
800
3"
1

7/32

"
3"
3

9/16

"
Steel
4

3/16

"
2"

11/16

"
ASME B30.26
0000000
00000