Pulleys for Wire
Rope—

For Lifting

A

B

C

J

D

E

G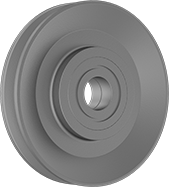 H

F
Use the bore to mount these pulleys on a shaft. These pulleys are also known as sheaves.
Pulleys with ball bearings and needle-roller bearings allow for easier turns than pulleys with sleeve bearings. Pulleys with open bearings dissipate heat more efficiently than those with sealed bearings. Pulleys with sealed bearings block out dust and other contaminants.
Nylon pulleys are lighter in weight than metal ones. Stainless steel pulleys are the most corrosion resistant.
Warning: Never use to lift people or items over people.
For technical drawings and 3-D models, click on a part number.

A

B

C

J

For Rope


Dia.

Capacity,




lbs.

OD
Pulley


Dia.

For Shaft


Dia.

Wd.

Material
Specifications
Met
Each
A

1/4

"
250
1

1/2

"
1

1/16

"

1/4

"

9/16

"
Nylon Plastic
__
0000000
00000
A

1/4

"
750
2

3/4

"
2

1/4

"

5/16

"

9/16

"
Nylon Plastic
__
0000000
0000
A

1/4

"
1,200
3"
2

3/8

"

5/16

"

5/8

"
Nylon Plastic
__
0000000
0000
B

3/64

"
20

3/4

"

5/8

"

1/8

"

3/16

"
Nylon Plastic
__
0000000
0000
B

3/64

"
70
1

1/16

"

7/8

"

3/16

"

1/4

"
Nylon Plastic
__
0000000
0000
B

3/64

"
70
1

1/16

"

7/8

"

1/4

"

1/4

"
Nylon Plastic
__
0000000
0000
B

1/16

"
90
1

1/4

"
1

1/16

"

3/16

"

1/4

"
Nylon Plastic
__
0000000
0000
B

3/32

"
150
1

1/2

"
1

1/4

"

3/8

"

5/16

"
Nylon Plastic
__
0000000
0000
B

1/8

"
675
2

1/2

"
2"

1/2

"

1/2

"
Stainless Steel
ASME B30.26
00000000
00000
B

1/8

"
675
2

1/2

"
2"

1/2

"

1/2

"
Zinc-Plated Steel
ASME B30.26
0000000
00000
B

3/16

"
525
1

1/2

"
1"

1/2

"

1/2

"
Stainless Steel
ASME B30.26
00000000
00000
B

3/16

"
525
1

1/2

"
1"

1/2

"

1/2

"
Zinc-Plated Steel
ASME B30.26
00000000
0000
B

3/16

"
600
2"
1

1/2

"

1/2

"

1/2

"
Stainless Steel
ASME B30.26
00000000
00000
B

3/16

"
600
2"
1

1/2

"

1/2

"

1/2

"
Zinc-Plated Steel
ASME B30.26
00000000
0000
B

1/4

"
675
2

1/2

"
2"

1/2

"

1/2

"
Stainless Steel
ASME B30.26
00000000
00000
B

1/4

"
675
2

1/2

"
2"

1/2

"

1/2

"
Zinc-Plated Steel
ASME B30.26
00000000
00000
B

1/4

"
800
3"
2

1/2

"

1/2

"

1/2

"
Stainless Steel
ASME B30.26
00000000
00000
B

1/4

"
800
3"
2

1/2

"

1/2

"

1/2

"
Zinc-Plated Steel
ASME B30.26
00000000
00000
B

5/16

"
800
3"
2

1/2

"

1/2

"

1/2

"
Stainless Steel
ASME B30.26
00000000
00000
B

5/16

"
1,550
3

1/2

"
3"

3/4

"

11/16

"
Stainless Steel
ASME B30.26
00000000
00000
B

5/16

"
1,550
3

1/2

"
3"

3/4

"

11/16

"
Zinc-Plated Steel
ASME B30.26
00000000
00000
B

3/8

"
1,550
3

1/2

"
3"

3/4

"

11/16

"
Stainless Steel
ASME B30.26
00000000
00000
B

3/8

"
1,550
3

1/2

"
3"

3/4

"

11/16

"
Zinc-Plated Steel
ASME B30.26
00000000
00000
B

3/8

"
1,700
4"
3

1/4

"

3/4

"

11/16

"
Stainless Steel
ASME B30.26
00000000
00000
B

3/8

"
1,700
4"
3

1/4

"

3/4

"

11/16

"
Zinc-Plated Steel
ASME B30.26
0000000
00000
B

3/8

"
1,850
5"
4

1/4

"

3/4

"

11/16

"
Stainless Steel
ASME B30.26
00000000
000000
B

3/8

"
1,850
5"
4

1/4

"

3/4

"

11/16

"
Zinc-Plated Steel
ASME B30.26
0000000
00000
C

1/4

"
1,200
4"
3

1/4

"

1/2

"

13/16

"
Powder-Coated Steel
__
0000000
00000
C

1/4

"
1,200
4"
3

1/4

"

3/4

"

13/16

"
Powder-Coated Steel
__
0000000
00000
C

5/16

"
1,800
5"
4"

3/4

"
1"
Powder-Coated Steel
__
0000000
00000
C

3/8

"
1,600
4"
3

1/8

"

1/2

"

13/16

"
Powder-Coated Steel
__
0000000
00000
C

3/8

"
1,600
4

1/8

"
3"
1"
1

1/2

"
Powder-Coated Steel
__
0000000
00000
C

3/8

"
1,700
4"
3

1/8

"

3/4

"

13/16

"
Powder-Coated Steel
__
0000000
00000
C

3/8

"
2,700
6"
4

15/16

"
1

1/4

"
1

1/8

"
Powder-Coated Steel
__
0000000
000000
C

3/8

"
2,800
6"
5"

3/4

"
1

1/16

"
Powder-Coated Steel
__
0000000
000000
C

3/8

"
2,800
6"
5"
1"
1

1/16

"
Powder-Coated Steel
__
0000000
000000
C

3/8

"
3,600
8"
6

1/2

"
1

1/4

"
1

3/8

"
Powder-Coated Steel
__
0000000
000000
C

1/2

"
3,200
6"
4

7/8

"

3/4

"
1

1/16

"
Powder-Coated Steel
__
0000000
000000
C

1/2

"
3,600
6"
4

7/8

"
1"
1

1/16

"
Powder-Coated Steel
__
0000000
000000
C

1/2

"
3,600
6"
4

15/16

"
1

1/4

"
1

1/8

"
Powder-Coated Steel
__
0000000
000000
C

1/2

"
4,800
8"
6

5/8

"
1"
1

3/8

"
Powder-Coated Steel
__
0000000
000000
C

5/8

"
3,200
6"
5"

3/4

"
1

1/16

"
Powder-Coated Steel
__
0000000
000000
C

5/8

"
4,200
6"
5"
1"
1

1/16

"
Powder-Coated Steel
__
0000000
000000
C

5/8

"
6,000
8"
6

5/8

"
1

1/4

"
1

3/8

"
Powder-Coated Steel
__
0000000
000000
J

1/16

"
90
1

1/4

"
1

1/16

"

1/4

"

1/4

"
Nylon Plastic
__
0000000
0000
J

3/32

"
150
1

1/2

"
1

1/4

"

1/4

"

5/16

"
Nylon Plastic
__
0000000
0000

D

E

G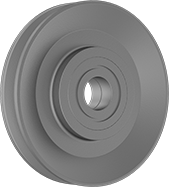 H

For
Rope


Dia.

Capacity,




lbs.

OD
Pulley


Dia.

For
Shaft


Dia.

Wd.

Material
Bearing
Seal
Type
Specifications
Met
Each
D

1/8

"
1,000
2

1/4

"
2"

15/32

"

25/32

"
Stainless Steel
Sealed
ASME B30.26
0000000
0000000
D

1/8

"
1,000
2

1/4

"
2"

15/32

"

13/16

"
Powder-Coated Steel
Sealed
ASME B30.26
0000000
000000
D

1/4

"
3,500
4

1/4

"
3

3/4

"

25/32

"
1

3/16

"
Stainless Steel
Sealed
ASME B30.26
0000000
000000
D

1/4

"
3,500
4

1/4

"
3

3/4

"

25/32

"
1

3/16

"
Powder-Coated Steel
Sealed
ASME B30.26
0000000
000000
D

3/8

"
7,000
6"
5

5/16

"
1

5/32

"
1

1/2

"
Powder-Coated Steel
Sealed
ASME B30.26
0000000
000000
D

3/8

"
7,000
6"
5

3/8

"
1

5/32

"
1

1/2

"
Stainless Steel
Sealed
ASME B30.26
0000000
000000
D

1/2

"
10,500
8"
7"
1

3/8

"
1

11/16

"
Stainless Steel
Sealed
ASME B30.26
0000000
000000
D

1/2

"
10,500
8"
7"
1

3/8

"
1

11/16

"
Powder-Coated Steel
Sealed
ASME B30.26
0000000
000000
D

5/8

"
16,000
10"
8

3/4

"
1

3/4

"
2"
Stainless Steel
Sealed
ASME B30.26
0000000
00000000
D

5/8

"
16,000
10"
8

3/4

"
1

3/4

"
2"
Powder-Coated Steel
Sealed
ASME B30.26
0000000
000000
D

3/4

"
23,000
12"
10

3/8

"
2

5/32

"
2

1/4

"
Stainless Steel
Sealed
ASME B30.26
0000000
00000000
D

7/8

"
31,000
14"
12

5/16

"
2

9/16

"
2

5/8

"
Stainless Steel
Sealed
ASME B30.26
0000000
00000000
D
1"
41,000
16"
14

3/16

"
2

15/16

"
2

29/32

"
Stainless Steel
Sealed
ASME B30.26
0000000
00000000
E

1/32

"
10

5/8

"

1/2

"

1/8

"

5/32

"
Nylon Plastic
Open
__
0000000
0000
E

3/64

"
10

1/2

"

7/16

"

1/8

"

5/32

"
Nylon Plastic
Open
__
0000000
0000
E

3/64

"
10

3/4

"

5/8

"

1/8

"

5/32

"
Nylon Plastic
Open
__
0000000
0000
E

3/64

"
35
1"

13/16

"

1/8

"
1

3/16

"
Nylon Plastic
Shielded
__
0000000
00000
E

3/64

"
35
1

1/16

"

7/8

"

3/16

"

1/4

"
Nylon Plastic
Open
__
0000000
0000
E

3/64

"
35
1

1/16

"

7/8

"

1/4

"

1/4

"
Nylon Plastic
Open
__
0000000
0000
E

1/16

"
45
1

1/4

"
1

1/16

"

3/16

"

1/4

"
Nylon Plastic
Open
__
0000000
0000
E

1/16

"
45
1

1/4

"
1

1/16

"

1/4

"

1/4

"
Nylon Plastic
Open
__
0000000
0000
E

3/32

"
70
1

3/4

"
1

1/4

"

3/8

"

5/16

"
Nylon Plastic
Open
__
0000000
0000
E

3/32

"
80
1

1/2

"
1

1/4

"

1/4

"

5/16

"
Nylon Plastic
Open
__
0000000
0000
E

1/8

"
70
1

3/4

"
1

3/8

"

3/8

"

5/16

"
Nylon Plastic
Open
__
0000000
0000
E

1/8

"
80
1

1/2

"
1

3/8

"

1/4

"

5/16

"
Nylon Plastic
Open
__
0000000
0000
G

1/8

"
675
2

1/2

"
2"

1/2

"

7/16

"
Stainless Steel
Sealed
ASME B30.26
00000000
00000
G

1/8

"
675
2

1/2

"
2"

1/2

"

7/16

"
Zinc-Plated Steel
Sealed
ASME B30.26
00000000
00000
G

3/16

"
525
1

1/2

"
1"

1/4

"

7/16

"
Stainless Steel
Sealed
ASME B30.26
00000000
00000
G

3/16

"
525
1

1/2

"
1"

1/4

"

7/16

"
Zinc-Plated Steel
Sealed
ASME B30.26
00000000
00000
G

3/16

"
600
2"
1

1/2

"

1/2

"

7/16

"
Stainless Steel
Sealed
ASME B30.26
00000000
00000
G

3/16

"
600
2"
1

1/2

"

1/2

"

7/16

"
Zinc-Plated Steel
Sealed
ASME B30.26
00000000
00000
G

1/4

"
675
2

1/2

"
2"

1/2

"

7/16

"
Stainless Steel
Sealed
ASME B30.26
00000000
00000
G

1/4

"
675
2

1/2

"
2"

1/2

"

7/16

"
Zinc-Plated Steel
Sealed
ASME B30.26
00000000
00000
G

1/4

"
800
3"
2

1/2

"

1/2

"

7/16

"
Stainless Steel
Sealed
ASME B30.26
00000000
000000
G

1/4

"
800
3"
2

1/2

"

1/2

"

7/16

"
Zinc-Plated Steel
Sealed
ASME B30.26
00000000
00000
G

5/16

"
800
3"
2

1/2

"

1/2

"

7/16

"
Stainless Steel
Sealed
ASME B30.26
00000000
000000
G

5/16

"
800
3"
2

1/2

"

1/2

"

7/16

"
Zinc-Plated Steel
Sealed
ASME B30.26
00000000
00000
G

5/16

"
1,550
3

1/2

"
3"

3/4

"

5/8

"
Stainless Steel
Sealed
ASME B30.26
00000000
000000
G

5/16

"
1,550
3

1/2

"
3"

3/4

"

5/8

"
Zinc-Plated Steel
Sealed
ASME B30.26
00000000
00000
G

3/8

"
1,550
3

1/2

"
3"

3/4

"

5/8

"
Stainless Steel
Sealed
ASME B30.26
00000000
000000
G

3/8

"
1,550
3

1/2

"
3"

3/4

"

5/8

"
Zinc-Plated Steel
Sealed
ASME B30.26
00000000
00000
G

3/8

"
1,700
4"
3

1/4

"

3/4

"

5/8

"
Stainless Steel
Sealed
ASME B30.26
00000000
000000
G

3/8

"
1,700
4"
3

1/4

"

3/4

"

5/8

"
Zinc-Plated Steel
Sealed
ASME B30.26
00000000
000000
G

3/8

"
1,850
5"
4

1/4

"

3/4

"

5/8

"
Stainless Steel
Sealed
ASME B30.26
00000000
000000
G

3/8

"
1,850
5"
4

1/4

"

3/4

"

5/8

"
Zinc-Plated Steel
Sealed
ASME B30.26
00000000
000000
H

3/4

"
23,000
12"
10

3/8

"
2

5/32

"
2

1/4

"
Powder-Coated Steel
Sealed
ASME B30.26
0000000
000000
H

7/8

"
31,000
14"
12

3/8

"
2

9/16

"
2

5/8

"
Powder-Coated Steel
Sealed
ASME B30.26
0000000
000000
H
1"
41,000
16"
14

1/4

"
2

15/16

"
2

29/32

"
Powder-Coated Steel
Sealed
ASME B30.26
0000000
00000000
With Needle-Roller Bearing

F

For Rope


Dia.

Capacity,




lbs.

OD
Pulley


Dia.

For Shaft


Dia.

Wd.

Material
Bearing
Seal Type
Each
F

3/16

"
750
2"
1

1/2

"

1/4

"

15/32

"
Zinc-Plated Steel
Open
0000000
000000
F

3/16

"
900
2"
1

1/2

"

5/16

"

15/32

"
Zinc-Plated Steel
Open
0000000
00000
F

3/16

"
1,000
2"
1

1/2

"

3/8

"

15/32

"
Zinc-Plated Steel
Open
0000000
00000
F

3/16

"
1,000
2"
1

1/2

"

3/8

"

15/32

"
Zinc-Plated Steel
Sealed
0000000
00000
F

3/16

"
1,150
2"
1

1/2

"

1/2

"

15/32

"
Zinc-Plated Steel
Open
0000000
00000
F

3/16

"
1,150
2"
1

1/2

"

1/2

"

15/32

"
Zinc-Plated Steel
Sealed
0000000
00000
F

1/4

"
750
2

1/2

"
2"

1/4

"

15/32

"
Zinc-Plated Steel
Open
0000000
00000
F

1/4

"
1,000
2

1/2

"
2"

3/8

"

15/32

"
Zinc-Plated Steel
Open
0000000
00000
F

1/4

"
1,000
2

1/2

"
2"

3/8

"

15/32

"
Zinc-Plated Steel
Sealed
0000000
00000
F

1/4

"
1,150
2

1/2

"
2"

1/2

"

15/32

"
Zinc-Plated Steel
Open
0000000
00000
F

1/4

"
1,150
2

1/2

"
2"

1/2

"

15/32

"
Zinc-Plated Steel
Sealed
0000000
00000
F

1/4

"
1,550
2

1/2

"
2"

5/8

"

15/32

"
Zinc-Plated Steel
Open
0000000
00000
F

5/16

"
1,500
3"
2

1/2

"

3/8

"

5/8

"
Zinc-Plated Steel
Open
0000000
00000
F

5/16

"
1,500
3"
2

1/2

"

3/8

"

5/8

"
Zinc-Plated Steel
Sealed
0000000
00000
F

5/16

"
1,750
3"
2

1/2

"

1/2

"

5/8

"
Zinc-Plated Steel
Open
0000000
00000
F

5/16

"
1,750
3"
2

1/2

"

1/2

"

5/8

"
Zinc-Plated Steel
Sealed
0000000
00000
F

5/16

"
1,950
3"
2

1/2

"

5/8

"

5/8

"
Zinc-Plated Steel
Open
0000000
00000
F

5/16

"
2,600
3"
2

1/2

"

3/4

"

5/8

"
Zinc-Plated Steel
Open
0000000
00000
F

5/16

"
2,600
3"
2

1/2

"

3/4

"

5/8

"
Zinc-Plated Steel
Sealed
0000000
00000
F

3/8

"
1,500
3

1/2

"
2

13/16

"

3/8

"

5/8

"
Zinc-Plated Steel
Open
0000000
00000
F

3/8

"
1,500
3

1/2

"
2

13/16

"

3/8

"

5/8

"
Zinc-Plated Steel
Sealed
0000000
00000
F

3/8

"
1,750
3

1/2

"
2

13/16

"

1/2

"

5/8

"
Zinc-Plated Steel
Open
0000000
00000
F

3/8

"
1,750
3

1/2

"
2

13/16

"

1/2

"

5/8

"
Zinc-Plated Steel
Sealed
0000000
00000
F

3/8

"
1,950
3

1/2

"
2

13/16

"

5/8

"

5/8

"
Zinc-Plated Steel
Open
0000000
00000
F

3/8

"
2,600
3

1/2

"
2

13/16

"

3/4

"

5/8

"
Zinc-Plated Steel
Open
0000000
00000
F

3/8

"
2,600
3

1/2

"
2

13/16

"

3/4

"

5/8

"
Zinc-Plated Steel
Sealed
0000000
00000