Rubber-Coated

Pulleys for Conveyor Belts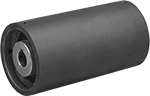 Replace worn or damaged pulleys or create new belt conveyors. A rubber coating, also known as lagging, increases friction for a better grip on the belt.
Tapered pulleys, also known as crowned pulleys, improve belt tracking.
For technical drawings and 3-D models, click on a part number.