XL Series

Lightweight Timing Belt Pulleys
Acetal and aluminum construction makes these pulleys useful in weight-sensitive applications. All are XL series (extra light) and have trapezoidal teeth. Select a pulley with a maximum belt width that's the same or larger than your timing belt width.
For technical drawings and 3-D models, click on a part number.
Press-Fit Mount with Set Screw

With Two Flanges

Without Flanges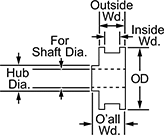 With Two Flanges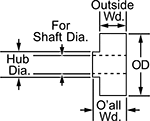 Without Flanges
OD
Number
of
Teeth
Pitch
For
Shaft


Dia.

Bore
Type
Inside


Wd.

Outside


Wd.

Overall


Wd.

Pitch


Dia.

Number
of
Flanges
Fabrication
Material
Material

Dia.

Each

Inch

0.88"
10
0.200"

3/16

"
Finished
0.5"
0.625"
0.875"
0.637"
2
Molded
Acetal
Aluminum
0.5"
00000000
00000
0.94"
11
0.200"

3/16

"
Finished
0.5"
0.625"
0.875"
0.7"
2
Molded
Acetal
Aluminum
0.5"
00000000
0000
1"
12
0.200"

3/16

"
Finished
0.5"
0.625"
0.875"
0.764"
2
Molded
Acetal
Aluminum
0.5"
00000000
0000
1.13"
14
0.200"

1/4

"
Finished
0.5"
0.625"
0.875"
0.891"
2
Molded
Acetal
Aluminum
0.75"
00000000
00000
1.19"
15
0.200"

1/4

"
Finished
0.5"
0.625"
0.875"
0.955"
2
Molded
Acetal
Aluminum
0.75"
00000000
00000
1.25"
16
0.200"

1/4

"
Finished
0.5"
0.625"
0.875"
1.019"
2
Molded
Acetal
Aluminum
0.75"
00000000
00000
1.38"
18
0.200"

1/4

"
Finished
0.5"
0.625"
0.875"
1.146"
2
Molded
Acetal
Aluminum
0.75"
00000000
00000
1.5"
20
0.200"

1/4

"
Finished
0.5"
0.625"
0.875"
1.273"
2
Molded
Acetal
Aluminum
0.875"
00000000
00000
1.56"
21
0.200"

1/4

"
Finished
0.5"
0.625"
0.875"
1.337"
2
Molded
Acetal
Aluminum
0.875"
00000000
00000
1.63"
22
0.200"

1/4

"
Finished
0.5"
0.625"
0.875"
1.401"
2
Molded
Acetal
Aluminum
0.875"
00000000
00000
1.75"
24
0.200"

5/16

"
Finished
0.5"
0.625"
0.875"
1.528"
2
Molded
Acetal
Aluminum
0.875"
00000000
00000
1.88"
26
0.200"

5/16

"
Finished
0.5"
0.625"
0.875"
1.655"
2
Molded
Acetal
Aluminum
0.875"
00000000
00000
2"
28
0.200"

5/16

"
Finished
0.5"
0.625"
0.875"
1.783"
2
Molded
Acetal
Aluminum
0.875"
00000000
00000
2.13"
30
0.200"

5/16

"
Finished
0.5"
0.625"
0.875"
1.91"
2
Molded
Acetal
Aluminum
0.875"
00000000
00000
2.25"
32
0.200"

5/16

"
Finished
0.5"
0.625"
0.875"
2.037"
2
Molded
Acetal
Aluminum
0.875"
00000000
00000
2.53"
36
0.200"

5/16

"
Finished
0.5"
0.625"
0.875"
2.292"
2
Molded
Acetal
Aluminum
0.875"
00000000
00000
2.75"
40
0.200"

5/16

"
Finished
0.5"
0.625"
0.875"
2.546"
2
Molded
Acetal
Aluminum
0.875"
00000000
00000
2.91"
42
0.200"

5/16

"
Finished
0.5"
0.625"
0.875"
2.674"
2
Molded
Acetal
Aluminum
0.875"
00000000
00000
3.03"
44
0.200"

5/16

"
Finished
0.5"
0.625"
0.875"
2.801"
2
Molded
Acetal
Aluminum
0.875"
00000000
00000
3.28"
48
0.200"

5/16

"
Finished
0.5"
0.625"
0.875"
3.056"
2
Molded
Acetal
Aluminum
0.875"
00000000
00000
3.8"
60
0.200"

5/16

"
Finished
0.5"
0.575"
0.875"
3.82"
__
Molded
Acetal
Aluminum
0.875"
00000000
00000

Metric

22mm
10
5.000mm
6mm
Finished
13mm
16mm
22mm
16.18mm
2
Molded
Acetal
Aluminum
13mm
0000000
00000
24mm
11
5.000mm
6mm
Finished
13mm
16mm
22mm
17.78mm
2
Molded
Acetal
Aluminum
13mm
0000000
00000
25mm
12
5.000mm
6mm
Finished
13mm
16mm
22mm
19.41mm
2
Molded
Acetal
Aluminum
13mm
0000000
00000
28mm
14
5.000mm
8mm
Finished
13mm
16mm
22mm
22.63mm
2
Molded
Acetal
Aluminum
19mm
0000000
00000
30mm
15
5.000mm
8mm
Finished
13mm
16mm
22mm
24.26mm
2
Molded
Acetal
Aluminum
19mm
0000000
00000
32mm
16
5.000mm
8mm
Finished
13mm
16mm
22mm
25.88mm
2
Molded
Acetal
Aluminum
19mm
0000000
00000
35mm
18
5.000mm
8mm
Finished
13mm
16mm
22mm
29.11mm
2
Molded
Acetal
Aluminum
19mm
0000000
00000
38mm
20
5.000mm
8mm
Finished
13mm
16mm
22mm
32.33mm
2
Molded
Acetal
Aluminum
22mm
0000000
00000
40mm
21
5.000mm
8mm
Finished
13mm
16mm
22mm
33.96mm
2
Molded
Acetal
Aluminum
22mm
0000000
00000
41mm
22
5.000mm
8mm
Finished
13mm
16mm
22mm
35.59mm
2
Molded
Acetal
Aluminum
22mm
0000000
00000
44mm
24
5.000mm
8mm
Finished
13mm
16mm
22mm
38.81mm
2
Molded
Acetal
Aluminum
22mm
0000000
00000
48mm
26
5.000mm
8mm
Finished
13mm
16mm
22mm
42.04mm
2
Molded
Acetal
Aluminum
22mm
0000000
00000
51mm
28
5.000mm
8mm
Finished
13mm
16mm
22mm
45.29mm
2
Molded
Acetal
Aluminum
22mm
0000000
00000
54mm
30
5.000mm
10mm
Finished
13mm
16mm
22mm
48.51mm
2
Molded
Acetal
Aluminum
22mm
0000000
00000
57mm
32
5.000mm
10mm
Finished
13mm
16mm
22mm
51.74mm
2
Molded
Acetal
Aluminum
22mm
0000000
00000
64mm
36
5.000mm
10mm
Finished
13mm
16mm
22mm
58.22mm
2
Molded
Acetal
Aluminum
22mm
0000000
00000
70mm
40
5.000mm
10mm
Finished
13mm
16mm
22mm
64.67mm
2
Molded
Acetal
Aluminum
22mm
0000000
00000
74mm
42
5.000mm
10mm
Finished
13mm
16mm
22mm
67.92mm
2
Molded
Acetal
Aluminum
22mm
0000000
00000
77mm
44
5.000mm
10mm
Finished
13mm
16mm
22mm
71.15mm
2
Molded
Acetal
Aluminum
22mm
0000000
00000
83mm
48
5.000mm
12mm
Finished
13mm
16mm
22mm
77.62mm
2
Molded
Acetal
Aluminum
22mm
0000000
00000
97mm
60
5.000mm
12mm
Finished
__
13mm
22mm
97.03mm
__
Molded
Acetal
Aluminum
22mm
0000000
00000