Pumps for Hydraulic Jacks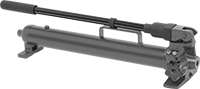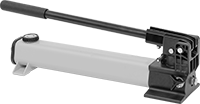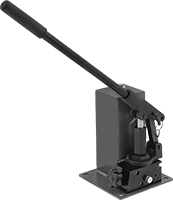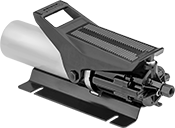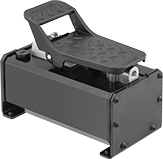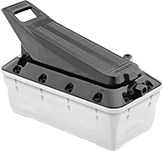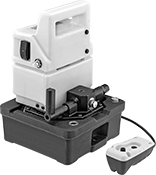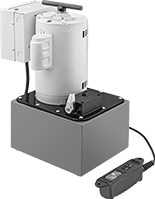 Connect these pumps to a ram to create a hydraulic jack. Use hose to connect; add a pressure gauge to monitor hydraulic oil pressure levels and guard against overload.
To use Style 1 and 2 pumps vertically, point the pump head (where the handle meets the pump) downward. Style 2 pumps are made of aluminum, making them lighter and more corrosion resistant than steel and iron pumps.
Style 3 pumps are also known as trailer pumps and have a body that is taller than it is long to fit in a narrow space. Use as part of a permanent lifting system.
Style 4, 5, and 6 pumps use air power to operate where electricity is not available and require minimal effort. Use the pedal with your hand or foot to activate and release your ram.
Style 7 and 8 pumps operate from up to 10 ft. away using the included wired remote.
Pumps with two-speeds are quick to pump until the load is engaged, then pump more slowly for precise positioning.
Warning: Never use to support people or loads over people.
For technical drawings and 3-D models, click on a part number.
Style
Working
Orientation
Oil


Capacity,




cu.

in.

No.


of
Speeds

Lg.

Wd.

Ht.

Max.




Pressure,


psi
Pipe
Size

Thread
Type
Gender
Material
Fasteners
Included

No.


of
Holes
Hole


Dia.

Plug
Type
Includes
Each

Manual

1
Horizontal, Vertical
20
2
14

1/4

"
5"
5

1/8

"
10,000

3/8

NPTF

Female
Steel
No
2

1/4

"
__
__
0000000
0000000
1
Horizontal, Vertical
45
1
24

7/8

"
5

3/8

"
5

3/4

"
10,000

3/8

NPTF

Female
Steel
__
__
__
__
__
0000000
000000
1
Horizontal, Vertical
45
2
25

5/8

"
5

3/8

"
5

3/4

"
10,000

3/8

NPTF

Female
Steel
__
__
__
__
__
0000000
000000
1
Horizontal, Vertical
145
2
23"
5

1/2

"
6

5/8

"
10,000

3/8

NPTF

Female
Steel
No
4

7/16

"
__
__
0000000
000000
2
Horizontal, Vertical
55
2
21"
4

3/4

"
7"
10,000

3/8

NPTF

Female
Aluminum
__
__
__
__
__
000000
000000
2
Horizontal, Vertical
155
2
21

3/4

"
7

1/8

"
9"
10,000

3/8

NPTF

Female
Aluminum
No
2

3/8

"
__
__
000000
00000000
3
Vertical
148
1
8"
8"
11

1/8

"
12,000

3/8

NPTF

Female
Cast Iron
No
4

9/16

"
__
__
00000000
000000

Air

4
Horizontal
36
1
14

3/4

"
5

5/8

"
5

3/4

"
10,000

3/8

NPTF

Female
Aluminum, Steel
No
4

5/16

"
__
__
00000000
00000000
5
Horizontal
90
1
10

5/8

"
5

3/4

"
8

1/8

"
10,000

3/8

NPTF

Female
Aluminum, Steel
No
4

3/8

"
__
__
00000000
000000
6
Horizontal
127
1
13

5/8

"
6

1/2

"
8

3/8

"
10,000

3/8

NPTF

Female
Aluminum, Steel
No
4

3/16

"
__
__
00000000
00000000

Electric

7
Vertical
116
2
9

5/8

"
9

5/8

"
14

1/4

"
10,000

3/8

NPTF

Female
Aluminum, Steel
No
4

3/8

"
Three Prong
Remote Control with 10-ft. Cord
00000000
00000000
8
Vertical
590
2
11

1/2

"
9

1/2

"
19

5/8

"
10,000

3/8

NPTF

Female
Aluminum, Steel
No
4

1/2

"
NEMA 5-20
Remote Control with 10-ft. Cord
0000000
00000000