How to

Identify and Measure Fittings
Pipe size is an industry designation, not the actual size. View information about how to measure threaded and unthreaded pipe and pipe fittings.
Precision Compression Fittings for Copper Tubing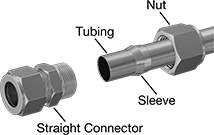 For Use

With:

Air,

Cutting

Oil,

Ethyl

Alcohol,

Fuel

Oil,

Gasoline,

Hydraulic

Fluid,

Isopropyl

Alcohol,

Mineral

Oil,

Natural

Gas,

Steam,

Water
Temperature

Range:

-40° to 350° F

Tubing:

Use with seamless copper that meets ASTM

B68,

ASTM

B75,

or

ASTM B88

Compatible

With:

Parker CPI
Made to tighter tolerances than other compression fittings, these are designed for high-precision applications. They are also known as instrumentation fittings and flareless fittings. They come with a nut and a single sleeve (ferrule). The sleeve bites into tubing as you tighten the nut to create a strong seal. The nut has a molybdenum disulfide coating that acts as a lubricant for easy installation. Fittings are brass for good corrosion resistance.
For technical drawings and 3-D models, click on a part number.


Caps for tubing have a nut and a sleeve so you can close off the end of your tubing in place of a fitting. Caps for fittings replace the nut and sleeve of an existing fitting.
OD
Wall


Thick.

Material

Max.

Pressure
Each
Each

1/8

"
0.035"
Brass
2,700 psi @ 72° F
000000
00
00000000
00000

1/8

"
0.035"
Brass
3,600 psi @ 72° F
00000000
00000
000000
00

3/16

"
0.035"
Brass
1,200 psi @ 72° F
000000
00
00000000
0000

3/16

"
0.035"
Brass
2,300 psi @ 72° F
00000000
0000
000000
00

1/4

"
0.035"
Brass
1,200 psi @ 72° F
00000000
0000
00000000
0000

5/16

"
0.035"
Brass
1,200 psi @ 72° F
000000
00
00000000
0000

3/8

"
0.035"
Brass
1,000 psi @ 72° F
00000000
0000
00000000
0000

1/2

"
0.049"
Brass
1,200 psi @ 72° F
00000000
00000
00000000
0000

5/8

"
0.065"
Brass
1,200 psi @ 72° F
00000000
0000
000000
00

OD
Wall


Thick.

Sleeve
Material

Max.

Pressure
Each

1/8

"
0.035"
Brass
2,700 psi @ 72° F
00000000
00000

3/16

"
0.035"
Brass
1,200 psi @ 72° F
00000000
0000

1/4

"
0.035"
Brass
1,200 psi @ 72° F
00000000
0000

5/16

"
0.035"
Brass
1,200 psi @ 72° F
00000000
0000

3/8

"
0.035"
Brass
1,000 psi @ 72° F
00000000
0000

1/2

"
0.049"
Brass
1,200 psi @ 72° F
00000000
0000

5/8

"
0.065"
Brass
1,300 psi @ 72° F
00000000
0000