Compressed Air
Filter/Lubricators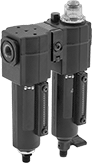 Filter and lubricator in one, these filter/lubricators provide clean, lubricated compressed air to extend the service life of tools and equipment. They each have a sight glass so you can see inside to monitor contents.
Mounting brackets (sold separately) allow you to attach the filter/lubricator to a wall or equipment.
For technical drawings and 3-D models, click on a part number.
Replacement
Filter
Elements

Inlet

Outlet

Max.


Flow
Rate

Max.




Pressure,


psi
Removes Particle
Size Down


To,

microns

Max.




Temp.,




°F

Ht.

Wd.

Each
Each
Each

NPT Female Inlet and Outlet

Zinc

Bowl—

Opaque with Sight Glass and Automatic Drain

1/4

1/4

54 scfm @ 100 psi
150
5
140°
7

1/2

"
4

1/4

"
0000000
0000000
0000000
00000
00000000
000000

3/8

3/8

54 scfm @ 100 psi
150
5
140°
7

1/2

"
4

1/4

"
0000000
000000
0000000
0000
00000000
00000

Aluminum

Bowl—

Opaque with Sight Glass and Automatic Drain

1/2

1/2

60 scfm @ 100 psi
250
5
175°
8"
6"
0000000
000000
0000000
0000
00000000
00000

1/2

1/2

110 scfm @ 100 psi
250
5
175°
8

7/8

"
6

7/8

"
0000000
000000
0000000
00000
00000000
00000

3/4

3/4

110 scfm @ 100 psi
250
5
175°
8

7/8

"
6

7/8

"
0000000
000000
0000000
00000
00000000
00000