Fabric-Reinforced

High-Temperature

Silicone Foam Strips
One layer of fiberglass fabric is sandwiched between layers of silicone foam giving these strips strength to handle high-stress applications, such as gasketing. Silicone will maintain its flexibility across a wide range of temperatures. This foam has closed-cell construction, which restricts water, air, and gases from being absorbed. These strips have a crisscross texture that provides a nonslip gripping surface.
For technical drawings and 3-D models, click on a part number.
Adhesive-Back Strips with Crisscross Texture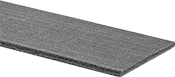 Color:

Gray
Temperature

Range:

-100° to 500° F

Cell

Type:

Closed

For Use

Outdoors:

Yes

Density:

35

lbs./cu.

ft.

Pressure to Compress

25%:

12 psi

(Soft)

Tensile Strength

Rating:

Good

Oil-

Resistance

Rating:

Not Rated
Thick.

Thick.

Tolerance

Lg.,




ft.

Type
Temperature


Range,

°F

Each

1/16

"
-0.016" to 0.016"
30
Acrylic
-20° to 325°
00000000
000000

1/8

"
-0.032" to 0.032"
30
Acrylic
-20° to 325°
00000000
00000

3/16

"
-0.032" to 0.032"
15
Acrylic
-20° to 325°
00000000
00000

1/16

"
-0.016" to 0.016"
30
Acrylic
-20° to 325°
00000000
00000

1/8

"
-0.032" to 0.032"
30
Acrylic
-20° to 325°
00000000
00000

3/16

"
-0.032" to 0.032"
15
Acrylic
-20° to 325°
00000000
00000

1/8

"
-0.032" to 0.032"
30
Acrylic
-20° to 325°
00000000
000000

3/16

"
-0.032" to 0.032"
15
Acrylic
-20° to 325°
00000000
00000

1/16

"
-0.016" to 0.016"
30
Acrylic
-20° to 325°
00000000
000000

1/8

"
-0.032" to 0.032"
30
Acrylic
-20° to 325°
00000000
000000

3/16

"
-0.032" to 0.032"
15
Acrylic
-20° to 325°
00000000
000000

1/8

"
-0.032" to 0.032"
30
Acrylic
-20° to 325°
00000000
000000

1/16

"
-0.016" to 0.016"
30
Acrylic
-20° to 325°
00000000
000000

1/8

"
-0.032" to 0.032"
30
Acrylic
-20° to 325°
00000000
000000

3/16

"
-0.032" to 0.032"
15
Acrylic
-20° to 325°
00000000
000000

1/8

"
-0.032" to 0.032"
30
Acrylic
-20° to 325°
00000000
000000

3/16

"
-0.032" to 0.032"
15
Acrylic
-20° to 325°
00000000
000000

1/16

"
-0.016" to 0.016"
30
Acrylic
-20° to 325°
00000000
000000

1/8

"
-0.032" to 0.032"
30
Acrylic
-20° to 325°
00000000
000000

3/16

"
-0.032" to 0.032"
15
Acrylic
-20° to 325°
00000000
000000