Choosing an Electrical Switch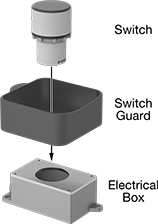 It takes two hands to activate these switches, minimizing the risk of accidental equipment start up. A complete system requires two switches, one safety relay, and two outlet boxes.
Safety relays control the two switches by sending an output signal when both switches are activated within 0.5 seconds of each other. Self-monitoring circuitry offers additional protection—if any part of the system fails, the entire system shuts down until repaired.
For technical drawings and 3-D models, click on a part number.

Safety Relay
Input
Voltage

No.

of Circuits
Controlled
Switch
Starting
Position

No.


of
Terminals
Industry
Designation
Switching
Current @
Voltage
For DIN
Rail

Ht.,


mm
Wire
Connection
Type
Each
115V AC
2
2 Off (Normally Open)
4
DPST-NO
4 A @ 230 V AC, 2 A @ 24 V DC
35
Screw Terminals
00000000
0000000