Choosing an Electrical Switch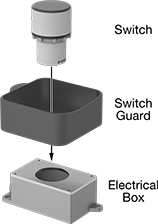 It takes two hands to activate these switches, minimizing the risk of accidental equipment start up. A complete system requires two switches, one safety relay, and two outlet boxes.
Switches meet OSHA requirements and ANSI standards for machine operator safety. They're rated IP64 for protection from splashing water.
For technical drawings and 3-D models, click on a part number.

Switch
Input
Voltage

No.

of
Circuits
Controlled
Switch
Starting
Position
Switch
Action

No.


of
Terminals
Industry
Designation
Material
Color
Switching
Current @
Voltage

Dia.

Each
24V DC
2
1 Off (Normally Open) and 1 On (Normally Closed)
Springs Back (Momentary)
4
DPST-1NO/1NC
Plastic
Gray
1 A @ 250 V AC/90 V DC
2

3/8

"
00000000
0000000
120V AC
2
1 Off (Normally Open) and 1 On (Normally Closed)
Springs Back (Momentary)
4
DPST-1NO/1NC
Plastic
Gray
1 A @ 250 V AC/90 V DC
2

3/8

"
00000000
000000