Rotational Viscosity Meters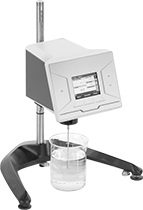 Meter
(Beaker Not Included)
To help ensure batch quality and consistency, these meters use the resistance met by their rotating spindle to measure the viscosity of liquid samples more quickly than manual testers. Results show immediately on a digital display. They also display torque percentage, which is often used by labs. If the torque percentage is outside the ideal range (10%-90%), switch to a different size spindle to improve accuracy. These meters come with multiple spindles to accommodate a wide range of viscosities. Spindles attach to meters magnetically, so you can add them with one hand and there's little risk of bending them. They cannot be sold to the regions listed due to import regulations.
These meters require no external programming—switch between samples by making adjustments on the display. Results are not saved, so plug meters into a printer to create a record.
Use these meters with standard 600 ml beakers.
1 cP-6,000,000 cP meters work with low-viscosity fluids with a viscosity similar to juice, ink, and mouthwash. Add spindle guards to prevent measurement errors caused by waves and ripples.
60 cP-320,000,000 cP meters test high-viscosity fluids that are similarly viscous to mayonnaise, peanut butter, and hair gels.
Add temperature probes to account for the impact of temperature on viscosity.