Air-Powered

Squeeze Tools for Solid Rivets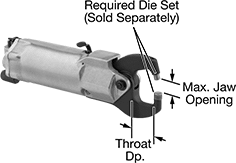 Compressed air provides nearly double the force of manual tools. These tools are also known as alligator squeezers.
A die set (sold separately) is required and must be attached to the tool jaws to properly form rivets during installation. Choose a die set that matches the rivet's head style.
For technical drawings and 3-D models, click on a part number.