About Installing Blind Rivets
Aluminum
Flush-Mount

Blind Rivets

Installed
Lightweight and corrosion resistant, these blind rivets are made of aluminum. Install them in countersunk holes, and their angled head sits flush with the material's surface.
They're often used to fasten material together when you only have access to one side, such as when attaching hinges and shelves. You can also use them to join materials that are difficult to weld or solder. The back of the rivet deforms during installation, creating a permanent hold that resists vibration without the chance of overtightening and stripping.
To install these rivets, you'll need a blind rivet tool (sold separately). Be sure to pick a tool that's compatible with your rivet's diameter and material. For more information on installing rivets, see About Installing Blind Rivets.
Blind rivets that meet ISO 15978 (formerly DIN 7337) comply with international dimensional standards for blind rivets. Those that meet IFI 114 comply with industry standards.
For technical drawings and 3-D models, click on a part number.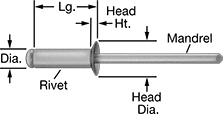 For
Material


Thick.

Lg.

For
Hole
Size
For
Drill
Bit Size
Head


Dia.

Head


Ht.

Countersink
Angle
Shear


Strength,




lbs.

Tensile


Strength,




lbs.

Specifications
Met

Pkg.




Qty.

Pkg.

0.062"-0.125"
0.225"
0.097"-0.1"
No. 41
0.174"
0.039"
120°
80
130
IFI 114 Standards
100
000000000
00000
0.092"-0.125"
0.275"
0.129"-0.133"
No. 30
0.233"
0.031"
120°
120
150
IFI 114 Standards
250
000000000
00000
0.126"-0.187"
0.337"
0.129"-0.133"
No. 30
0.233"
0.031"
120°
120
150
IFI 114 Standards
250
000000000
00000
0.188"-0.25"
0.4"
0.129"-0.133"
No. 30
0.233"
0.031"
120°
120
150
IFI 114 Standards
250
000000000
00000
0.251"-0.312"
0.462"
0.129"-0.133"
No. 30
0.233"
0.031"
120°
120
150
IFI 114 Standards
100
000000000
00000
0.313"-0.375"
0.525"
0.129"-0.133"
No. 30
0.233"
0.031"
120°
120
150
IFI 114 Standards
100
000000000
00000
0.501"-0.625"
0.75"
0.129"-0.133"
No. 30
0.22"
0.051"
120°
120
150
IFI 114 Standards
50
000000000
0000
0.062"-0.125"
0.275"
0.16"-0.164"
No. 20
0.281"
0.063"
120°
220
350
IFI 114 Standards
50
000000000
0000
0.126"-0.187"
0.337"
0.16"-0.164"
No. 20
0.281"
0.063"
120°
220
350
IFI 114 Standards
50
000000000
0000
0.188"-0.25"
0.4"
0.16"-0.164"
No. 20
0.281"
0.063"
120°
220
350
IFI 114 Standards
50
000000000
0000
0.251"-0.375"
0.55"
0.16"-0.164"
No. 20
0.281"
0.063"
120°
220
350
IFI 114 Standards
50
000000000
00000
0.376"-0.5"
0.65"
0.16"-0.164"
No. 20
0.281"
0.063"
120°
220
350
IFI 114 Standards
50
000000000
00000
0.188"-0.25"
0.425"
0.192"-0.196"
No. 11
0.348"
0.071"
120°
310
500
IFI 114 Standards
50
000000000
0000
0.251"-0.375"
0.55"
0.192"-0.196"
No. 11
0.348"
0.071"
120°
310
500
IFI 114 Standards
50
000000000
0000
0.376"-0.5"
0.675"
0.192"-0.196"
No. 11
0.348"
0.071"
120°
310
500
IFI 114 Standards
25
000000000
0000
0.501"-0.625"
0.825"
0.192"-0.196"
No. 11
0.348"
0.071"
120°
310
500
IFI 114 Standards
25
000000000
0000
0.626"-0.75"
0.925"
0.192"-0.196"
No. 11
0.348"
0.071"
120°
310
500
IFI 114 Standards
25
000000000
0000
0.751"-0.875"
1.05"
0.192"-0.196"
No. 11
0.348"
0.071"
120°
310
500
IFI 114 Standards
25
000000000
0000
0.876"-1"
1.175"
0.192"-0.196"
No. 11
0.348"
0.071"
120°
310
500
IFI 114 Standards
25
000000000
0000
0.188"-0.25"
0.475"
0.257"-0.261"
F
0.484"
0.106"
120°
600
750
IFI 114 Standards
10
000000000
0000
0.251"-0.375"
0.6"
0.257"-0.261"
F
0.484"
0.106"
120°
600
750
IFI 114 Standards
10
000000000
0000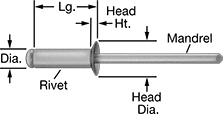 For
Material


Thick.

Lg.

For
Hole
Size
For
Drill
Bit Size
Head


Dia.

Head


Ht.

Countersink
Angle
Shear


Strength,




lbs.

Tensile


Strength,




lbs.

Specifications
Met

Pkg.




Qty.

Pkg.

0.062"-0.125"
0.225"
0.097"-0.1"
No. 41
0.174"
0.039"
120°
120
170
IFI 114 Standards
100
000000000
000000
0.126"-0.25"
0.335"
0.097"-0.1"
No. 41
0.174"
0.039"
120°
120
170
IFI 114 Standards
100
000000000
00000
0.251"-0.375"
0.475"
0.097"-0.1"
No. 41
0.174"
0.039"
120°
120
170
IFI 114 Standards
50
000000000
0000
0.092"-0.125"
0.275"
0.129"-0.133"
No. 30
0.233"
0.031"
120°
170
220
IFI 114 Standards
250
000000000
00000
0.126"-0.187"
0.337"
0.129"-0.133"
No. 30
0.233"
0.031"
120°
170
220
IFI 114 Standards
250
000000000
00000
0.188"-0.25"
0.4"
0.129"-0.133"
No. 30
0.233"
0.031"
120°
170
220
IFI 114 Standards
250
000000000
00000
0.251"-0.312"
0.438"
0.129"-0.133"
No. 30
0.22"
0.051"
120°
170
220
IFI 114 Standards
100
000000000
0000
0.313"-0.375"
0.5"
0.129"-0.133"
No. 30
0.22"
0.051"
120°
170
220
IFI 114 Standards
100
000000000
00000
0.376"-0.5"
0.625"
0.129"-0.133"
No. 30
0.22"
0.051"
120°
170
220
IFI 114 Standards
50
000000000
0000
0.126"-0.187"
0.337"
0.16"-0.164"
No. 20
0.281"
0.063"
120°
340
490
IFI 114 Standards
50
000000000
00000
0.188"-0.25"
0.4"
0.16"-0.164"
No. 20
0.281"
0.063"
120°
340
490
IFI 114 Standards
50
000000000
0000
0.251"-0.375"
0.525"
0.16"-0.164"
No. 20
0.281"
0.063"
120°
340
490
IFI 114 Standards
50
000000000
00000
0.062"-0.125"
0.3"
0.192"-0.196"
No. 11
0.348"
0.071"
120°
380
500
IFI 114 Standards
50
000000000
0000
0.188"-0.25"
0.425"
0.192"-0.196"
No. 11
0.348"
0.071"
120°
380
500
IFI 114 Standards
50
000000000
0000
0.251"-0.375"
0.55"
0.192"-0.196"
No. 11
0.348"
0.071"
120°
380
500
IFI 114 Standards
50
000000000
0000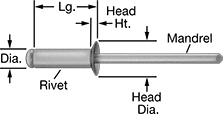 For Material


Thick.,

mm

Lg.,


mm
For Hole


Size,

mm
Head


Dia.,


mm
Head


Ht.,


mm
Countersink
Angle
Shear


Strength,




lbs.

Tensile


Strength,




lbs.

Specifications
Met

Pkg.




Qty.

Pkg.

1.5-3.5
6
3-3.1
6
0.9
120°
110
80
DIN 7337, ISO 15978
50
000000000
00000
3.5-5.5
8
3-3.1
6
0.9
120°
110
80
DIN 7337, ISO 15978
100
000000000
00000
5.5-7
10
3-3.1
6
0.9
120°
110
80
DIN 7337, ISO 15978
100
000000000
00000
7-9
12
3-3.1
6
0.9
120°
110
80
DIN 7337, ISO 15978
25
000000000
0000
9-13
16
3-3.1
6
0.9
120°
110
80
DIN 7337, ISO 15978
25
000000000
0000
1.5-3
6
4-4.1
7.5
1
120°
170
170
DIN 7337, ISO 15978
50
000000000
0000
3-5
8
4-4.1
7.5
1
120°
170
170
DIN 7337, ISO 15978
50
000000000
00000
5-6.5
10
4-4.1
7.5
1
120°
170
170
DIN 7337, ISO 15978
50
000000000
00000
6.5-8.5
12
4-4.1
7.5
1
120°
170
170
DIN 7337, ISO 15978
50
000000000
0000
8.5-12.5
16
4-4.1
7.5
1
120°
170
170
DIN 7337, ISO 15978
25
000000000
0000
12.5-14.5
18
4-4.1
7.5
1
120°
170
170
DIN 7337, ISO 15978
25
000000000
0000
12.5-16.5
20
4-4.1
7.5
1
120°
170
170
DIN 7337, ISO 15978
25
000000000
00000
3-4.5
8
5-5.1
9
1.2
120°
350
290
DIN 7337, ISO 15978
50
000000000
00000
4.5-6
10
5-5.1
9
1.2
120°
350
290
DIN 7337, ISO 15978
50
000000000
00000
6-8
12
5-5.1
9
1.2
120°
350
290
DIN 7337, ISO 15978
50
000000000
00000
8-12
16
5-5.1
9
1.2
120°
350
290
DIN 7337, ISO 15978
50
000000000
00000
10-14
18
5-5.1
9
1.2
120°
350
290
DIN 7337, ISO 15978
25
000000000
00000
12-16
20
5-5.1
9
1.2
120°
350
290
DIN 7337, ISO 15978
25
000000000
00000
16-21
25
5-5.1
9
1.2
120°
350
290
DIN 7337, ISO 15978
25
000000000
00000
21-25
30
5-5.1
9
1.2
120°
350
290
DIN 7337, ISO 15978
25
000000000
00000
25-30
35
5-5.1
9
1.2
120°
350
290
DIN 7337, ISO 15978
5
000000000
00000