About Installing Blind Rivets
Choose-a-Color

Domed Head Blind Rivets

Installed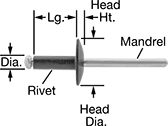 Select a color to make your rivets stand out or blend in. These rivets join material when you only have access to one side. Made of aluminum, they are lightweight, nonmagnetic, and have good corrosion resistance. The low-profile domed head creates a finished appearance.
The combined thickness of material must fall within the rivet's material thickness range. Shear strength is the amount of force it takes to break a rivet from the side, and tensile strength is the amount of pull a rivet can withstand without breaking. Joint strength is also affected by rivet spacing and hole size.
A blind rivet tool (sold separately) with a nosepiece that matches the rivet's diameter is required for installation.
For technical drawings and 3-D models, click on a part number.
For
Material


Thick.

Lg.

For
Hole
Size
For
Drill
Bit Size
Head


Dia.

Head


Ht.

Shear


Strength,




lbs.

Tensile


Strength,




lbs.

Material
Specifications
Met
Choose
a
Color

Pkg.




Qty.

Pkg.

0.063"-0.125"
0.275"
0.129"-0.133"
No. 30
0.25"
0.04"
120
150
5052 Aluminum
IFI 114 Standards
250
000000000
000000
0.126"-0.187"
0.337"
0.129"-0.133"
No. 30
0.25"
0.04"
120
150
5052 Aluminum
IFI 114 Standards
250
000000000
00000
0.188"-0.25"
0.4"
0.129"-0.133"
No. 30
0.25"
0.04"
120
150
5052 Aluminum
IFI 114 Standards
250
000000000
00000
0.251"-0.312"
0.462"
0.129"-0.133"
No. 30
0.25"
0.04"
120
150
5052 Aluminum
IFI 114 Standards
100
000000000
00000
0.313"-0.375"
0.525"
0.129"-0.133"
No. 30
0.25"
0.04"
120
150
5052 Aluminum
IFI 114 Standards
100
000000000
00000
0.063"-0.125"
0.299"
0.16"-0.164"
No. 20
0.312"
0.049"
190
230
5052 Aluminum
IFI 114 Standards
100
000000000
00000
0.126"-0.187"
0.362"
0.16"-0.164"
No. 20
0.312"
0.049"
190
230
5052 Aluminum
IFI 114 Standards
100
000000000
00000
0.188"-0.25"
0.425"
0.16"-0.164"
No. 20
0.312"
0.049"
190
230
5052 Aluminum
IFI 114 Standards
100
000000000
00000
0.25"-0.375"
0.549"
0.16"-0.164"
No. 20
0.312"
0.049"
190
230
5052 Aluminum
IFI 114 Standards
100
000000000
00000
0.126"-0.25"
0.45"
0.192"-0.196"
No. 11
0.375"
0.06"
260
320
5052 Aluminum
IFI 114 Standards
100
000000000
00000
0.251"-0.375"
0.575"
0.192"-0.196"
No. 11
0.375"
0.06"
260
320
5052 Aluminum
IFI 114 Standards
100
000000000
00000
0.376"-0.5"
0.7"
0.192"-0.196"
No. 11
0.375"
0.06"
260
320
5052 Aluminum
IFI 114 Standards
100
000000000
00000
0.126"-0.25"
0.5"
0.257"-0.261"
F
0.5"
0.08"
460
560
5052 Aluminum
IFI 114 Standards
50
000000000
00000
0.251"-0.375"
0.625"
0.257"-0.261"
F
0.5"
0.08"
460
560
5052 Aluminum
IFI 114 Standards
50
000000000
00000