Extra-Leverage

Manual Tools for Blind Rivets
Long handles provide additional leverage to install large-diameter rivets. They also extend your reach to access areas other tools can't. This tool has changeable nosepieces—use the nosepiece that matches your rivet's diameter. To install a rivet, insert the mandrel into the nosepiece of the tool. Place the rivet in the material and squeeze the handles. The tool pulls the mandrel through the rivet's body, creating a secure hold on both sides of the material, and breaks off the excess mandrel.
1/8" nosepiece (sold separately) is required to install 1/8" dia. blind rivets.
Optional nose extension (sold separately) adds 2 1/2" of reach.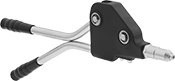 Dia.

Lg.

Lg.

Includes
Each
1"
2

1/2

"
21"
Three nosepieces (

5/32

",

3/16

", and

1/4

")
000000000
0000000