Manual Squeeze Tools for Solid Rivets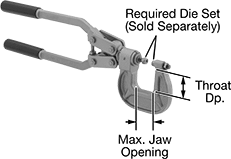 Squeeze the handles to set solid aluminum rivets. The head rotates 360° for installation from any angle. Do not use these tools with steel or stainless steel rivets.
A die set (sold separately) is required and must be attached to the tool jaws to properly form rivets during installation. Choose a die set that matches the rivet's head style.
Tool with 2 1/2" Throat Dp.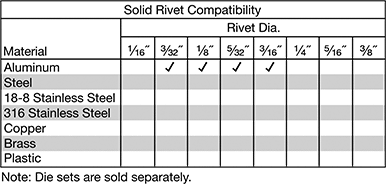 For

Max.


Rivet

Lg.

Max.

Jaw
Opening

Lg.

Handle


Lg.

Wt.,




lbs.

Material
Grip
Material
Each

5/8

"
2"
18"
10

1/2

"
6

1/2

Iron
Plastic
0000000
0000000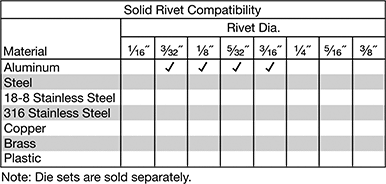 For

Max.


Rivet

Lg.

Max.

Jaw
Opening

Lg.

Handle


Lg.

Wt.,




lbs.

Material
Grip
Material
Each

5/8

"
2"
18"
10

1/2

"
9
Iron
Plastic
0000000
0000000
Die Sets for Solid Rivets


Round Domed Head

Universal Domed Head

Flat Head
For Rivet


Dia.

For Rivet
Head

Dia.

For Rivet
Head

Ht.

For

Max.


Rivet

Lg.

Material
Each

Round Domed Head

1/8

"
0.215"-0.235"
0.088"-0.1"

5/8

"
Steel
0000000
000000

3/32

"
0.162"-0.182"
0.065"-0.077"

5/8

"
Steel
0000000
00000

5/32

"
0.268"-0.29"
0.11"-0.124"

5/8

"
Steel
0000000
00000

Universal Domed Head

1/8

"
0.24"-0.26"
0.053"-0.065"

5/8

"
Steel
0000000
00000

3/32

"
0.177"-0.197"
0.039"-0.051"

5/8

"
Steel
0000000
00000

5/32

"
0.301"-0.323"
0.065"-0.079"

5/8

"
Steel
0000000
00000

Flat Head

1/8

"


3/16

"


3/32

"


5/32

"
0.18"-0.2"
0.24"-0.26"
0.301"-0.323"
0.361"-0.387"
0.026"-0.038"
0.036"-0.048"
0.045"-0.059"
0.055"-0.069"

5/8

"
Steel
0000000
00000