Tools for Blind Rivets and Rivet Nuts
This tool has changeable nosepieces, anvils, and pull-up studs for installing rivets and rivet nuts. A self-contained hydraulic system delivers additional force to make installation easier. Choose the attachment that matches your rivet's diameter or nut thread size. To install a rivet, insert the mandrel into the nosepiece of the tool. Place the rivet in the material and squeeze the handles. The tool pulls the mandrel through the rivet's body, creating a secure hold on both sides of the material, and breaks off the excess mandrel.
Pull-up studs and driving anvils for 6-32 to 3/8"-16 and M3 to M10 rivet nuts are sold separately.
For technical drawings and 3-D models, click on a part number.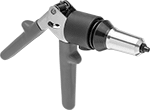 Dia.

Lg.

Lg.

Ht.

For Rivet
Nut
Material
For
Rivet Nut
Thread Size

Hydraulic
Oil
Included
Includes
Each
1

1/16

"
2

1/4

"
9

1/2

"
6

3/8

"
Aluminum, Steel
10-24,

1/4

"-28, 10-32,

3/8

"-16,

5/16

"-18, 6-32, 8-32, M10, M3, M4, M5, M6, M8,

1/4

"-20
Yes
Five nosepieces (

3/32

",

1/8

",

5/32

",

3/16

", and

1/4

")
Two anvils (10-24 and

1/4

"-20)
Two pull-up studs (10-24 and

1/4

"-20)
0000000
0000000
Optional Steel Pull-Up Studs and Driving Anvils