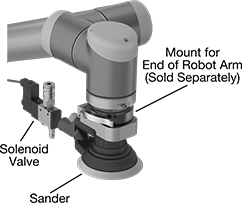 Automate sanding on your line by attaching these sanders to a robot arm. Compared to sanders operated by humans, these apply the same force and pattern for a more consistent and repeatable finish. To program them, connect them to your robot controller using the solenoid valves with wire leads. They're certified by Universal Robots (UR), which means they've validated that these sanders are compatible with their arms. To help ensure an accurate finish, use a force torque sensor (not included).
Attach these sanders to your robot's wrist with mounts for end of robot arm and robot tool (each sold separately). The mounts for end of robot arm have a mounting pattern that conforms to ISO 31.5 mm, 40 mm, and 50 mm, so they'll work with most industrial robots and cobots. Since they're a quick-connect tool changer, they let you switch out one sander for another without taking apart hardware.
Add an air coupler to install your own quick-connect fittings for the air input on these sanders.
Disc sanders, or random orbital sanders, move in both circular and back and forth motions. That's why they leave minimal swirl patterns and aren't limited to moving with the grain of your workpiece. However, these sanders can't fit into corners because their pads are circular.
Sheet sanders use rectangular sanding sheets that are good for fitting into corners, but they must sand with the grain pattern of your workpiece. Sanders for 8"-long sheets only move back and forth; they're known as inline sanders. Those for 7"-long sheets move in an orbital motion and are known as jitterbug sanders.
Sanders with a 3/8" stroke length are good for aggressive sanding that produces a rough finish (best for grits 16 to 80), such as grinding and deburring. Sanders with a 3/16" stroke length work for general purpose sanding (best for grits 100 to 240), such as deburring, texturing, and adding smooth finishes. Sanders with a 3/32" stroke length are for ultra-fine sanding (best for grits greater than 280), including extra-smooth finishing and polishing.
Add a debris collection system to keep the area clean. If you're using them in a hazardous location where large amounts of debris could be flammable, be sure to use a system that's certified for your location.