Selecting Compatible Lead Screws and Nuts
Chrome-Plated

Hardened Multipurpose 4140 Alloy Steel Rods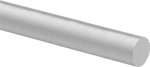 Yield

Strength:

100,

000 psi

Hardness:

Rockwell C30

(Hard)
The chrome plating on these rods increases corrosion resistance. They are hardened for increased abrasion and impact resistance. Also known as chrome-moly steel, this versatile 4140 alloy steel is used for a wide range of parts, such as gears, axles, shafts, collets, and die holders. It resists fracturing from repeated stress.
For technical drawings and 3-D models, click on a part number.

Certificates with a traceable lot number are available for these products. Download certificates from ACTIVITY after your order ships.
Metric
Fast-Travel

Ball Screws and Nuts
With multiple thread starts, these metric ball screws create linear travel that's approximately three times faster than ball screws with a single thread start. They're ideal for applications with an actuator. The ball nuts have internal ball bearings to produce smooth, low-friction travel for applications that require high speed, accurate positioning, and repeatable movement. They come with a tube to keep the ball bearings in place. Do not remove the tube until you're ready to install the nuts onto the screws. All of these ball nuts have an end cap on each end to stabilize fast-rotating motion. End caps also dampen the noise from the ball bearings and make the ball nuts more compact. Seals on the ball nuts keep out dust.
To ensure compatibility, select components that have the same thread size and travel distance per turn.
Ball nuts with six mounting holes have a support bearing for greater axial rigidity than ball nuts with four mounting holes. They're responsive to motor and actuator movements.
Root diameter indicates the diameter the ball screw will be after machining away the threads.
Travel distance per turn, also known as screw lead, is the distance a ball nut moves with one revolution of the ball screw.
For technical drawings and 3-D models, click on a part number.
Style B Flange Ball Nuts—Right-Hand Threaded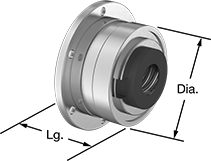 B

Thread
Size

Lg.,


mm

Dia.,


mm

Dia.,


mm

Thick.,


mm

No.

of
Thread
Starts
Travel
Distance
per

Turn,

mm

No.

of
Mounting
Holes
Bolt
Circle


Dia.,

mm
Hardness
Dynamic
Thrust
Load

Cap.,

lbs.

Max.




Backlash,


mm
Includes

Temp.




Range,




°F

Each

Alloy Steel

M32
80
80
105
9
4
32
6
91
Rockwell C58
3,880
0.2
End Caps

Seals

Not Rated to 175°
00000000
0000000