Extended-Life

Hand-Held

Thermometers with Calibration Certificate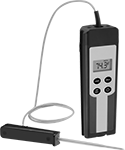 A
For a longer service life than thermocouple probes and more consistent readings over time, these thermometers have a resistance temperature detector (RTD) probe. They come with a calibration certificate traceable to NIST that states they've passed a test for accuracy.
Temperature
Range
Resolution
Accuracy

No.

of
Probe
Inputs
Response


Time,




sec.

Cable


Lg.,




ft.

Lg.

Dia.

Specifications
Met
Batteries
Included
Each

For Use With

Liquids,

Semisolids

A
-76° to 500° F/-60° to 260° C
0.1/0.1
± 1° F/±0.5° C
1
30
3
3

3/4

"

1/8

"
CE Marked

Yes
0000000
0000000
Extended-Life

Data-Logging

Thermometers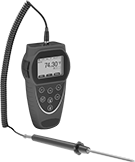 For more accurate and consistent readings than thermometers with thermocouple probes and a longer service life, this thermometer has a resistance temperature detector (RTD) probe. It logs up to 2,000 time- and date-stamped readings and uploads data to a PC through the USB port.
To conserve battery life, use the optional power adapter (sold separately).
Temperature
Range
Resolution
Accuracy

No.

of
Probe
Inputs
Response


Time,




sec.

Cable


Length,




ft.

Lg.

Dia.

Specifications
Met
Batteries
Included
Each

For Use With

Air,

Gases,

Liquids,

Solids,

Surfaces

-58° to 932° F/-50° to 500° C
0.1/0.1
± 0.1° F/±0.1° C
1
10
5
4"

3/16

"
CE Marked

Yes
00000000
0000000