Scraping and Drying Mats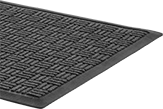 E

Dark Blue
These mats have an abrasive scraping surface and absorb water. Place them at entry locations, so people can wipe their feet, keeping dirt and rain water from travelling inside.
Olefin and polypropylene mats are quick drying and easy to clean.
Style E have raised edges to contain moisture, holding up to 1 1/2 gallons per square yard.
For technical drawings and 3-D models, click on a part number.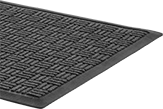 E

Dark Blue
Wd.

Lg.

Thick.

Mat
Hardness
Backing
Material
Edge
Profile
Number of
Tapered Edges
For Use
Outdoors
Backing
Color
Color
Each

Polypropylene Fiber

24"
36"

11/32

"
Soft
SBR Rubber
Tapered
4
No
Black
Dark Blue
0000000
000000
36"
48"

11/32

"
Soft
SBR Rubber
Tapered
4
No
Black
Dark Blue
0000000
00000
36"
60"

11/32

"
Soft
SBR Rubber
Tapered
4
No
Black
Dark Blue
0000000
00000
36"
10ft.

11/32

"
Soft
SBR Rubber
Tapered
4
No
Black
Dark Blue
0000000
000000
48"
72"

11/32

"
Soft
SBR Rubber
Tapered
4
No
Black
Dark Blue
0000000
000000
48"
10ft.

11/32

"
Soft
SBR Rubber
Tapered
4
No
Black
Dark Blue
0000000
000000