About Durometer Hardness Scales
High-Visibility

Corner Guards

2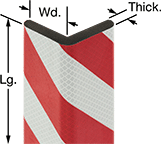 5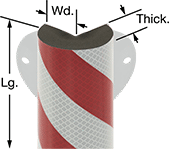 6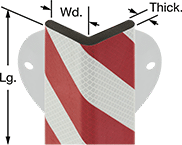 8
Vibrant colors create a visual alert to draw attention to equipment and obstructions. Designed to cushion during impact, these foam guards protect corners on walls, posts, shelving, and other surfaces from damage. Made of polyurethane, they have good abrasion resistance. They're nonmarking and can be used outdoors.
Adhesive-back guards allow for easy installation. Screw-in guards mount with fasteners. They're more durable than adhesive-back guards.
Guards with a medium hardness rating offer a balance of cushioning and impact resistance.
Silver/red guards are also reflective.
Wd.

Lg.

Thick.

Nonmarking
For
Use
Outdoors
Hardness
Rating
Hardness
Temperature


Range,




°F

Color
Includes
Mounting
Fasteners
Included
Each

Polyurethane Foam

Adhesive Back

2
1

3/8

"
39"
1"
Yes
Yes
Medium
Durometer 55A
-10° to 170°
Silver/Red
__
__
00000000
0000000
5
1

3/4

"
39"

9/16

"
Yes
Yes
Medium
Durometer 55A
-10° to 170°
Silver/Red
__
__
00000000
000000

Screw In

6
1

3/8

"
39"
1"
Yes
Yes
Medium
Durometer 55A
-10° to 170°
Silver/Red
Mounting Bracket
Yes
0000000
000000
8
1

3/4

"
39"

9/16

"
Yes
Yes
Medium
Durometer 55A
-10° to 170°
Silver/Red
Mounting Bracket
Yes
0000000
000000