Wear-,

Impact-,

and

Chemical-Resistant

PTFE Sheets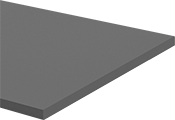 Color:

See table
Temperature

Range:

-400° to 550° F

Tensile

Strength:

2,000-3,

100 psi

(Poor)

Impact

Strength:

6

ft.

-

lbs./in.

(Excellent)

Hardness:

Not Rated

(Medium)

For Use

Outdoors:

No
These sheets are manufactured from Rulon PTFE, a PTFE material that's been modified with an epoxy-coated fiber. In addition to having the superior chemical and temperature resistance of PTFE, they have excellent impact resistance and a super-slippery surface that resists wear. These easy-to-machine sheets are nonabsorbent, so they won't swell when exposed to water. They're also good electrical insulators.
Grade J is the most slippery of the Rulon materials and is often used to make gaskets and wear strips.
For technical drawings and 3-D models, click on a part number.