Welder Carts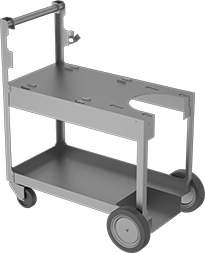 Flush Shelf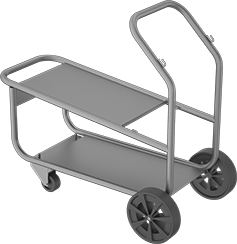 Lipped Shelf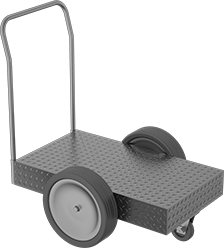 Solid Platform
Wheel your welding machine around the shop and keep its accessories organized on these carts. For smooth steering control, they have two swivel casters and two rigid axle-mounted wheels.
Carts with a flush or lipped shelf have additional storage space for accessories such as wire feeders, fill rods, and gloves.
Carts with pneumatic wheels have swivel casters on both ends and axle-mounted wheels in the middle for a central pivot point. They're often used to maneuver heavy machines such as engine-driven welders.
For technical drawings and 3-D models, click on a part number.
Lg.

Wd.

For

Max.


Gas Tank


Dia.

Overall


Capacity,




lbs.

Lg.

Wd.

Top
Shelf


Ht.

Handle


Ht.

Wheel
Configuration
Wheel


Dia.

Welding
Process
Includes
Assembled
or
Unassembled
Each

Flush Shelf

Tread on Core Wheels

26"
12"
8"
700
26"
12"
11"
27"
Two Swivel Casters and Two Axle-Mounted Wheels
3", 8"
MIG, TIG, Stick
__
Assembled
00000000
0000000
27"
11

3/4

"
7"
130
27"
11

3/4

"
15

1/2

"
30

1/2

"
Two Swivel Casters and Two Axle-Mounted Wheels
2", 6"
MIG, TIG, Stick
__
Assembled
00000000
000000
30"
15

1/4

"
8

1/4

"
200
30"
12"
16

3/4

"
33

3/4

"
Two Swivel Casters and Two Axle-Mounted Wheels
4", 6"
MIG, TIG, Stick
__
Assembled
00000000
000000
30"
20"
9

1/2

"
700
30"
16"
24"
36"
Two Swivel Casters and Two Axle-Mounted Wheels
4", 8"
MIG, TIG, Stick
__
Assembled
00000000
000000
40"
24

1/2

"
9

1/2

"
700
40"
16"
30

1/2

"
42"
Two Swivel Casters and Two Axle-Mounted Wheels
4", 8"
MIG, TIG, Stick
__
Assembled
00000000
000000
48

1/2

"
21"
9

1/2

"
1,000
25"
21"
35"
37

1/2

"
Two Swivel Casters and Two Axle-Mounted Wheels
3", 10"
MIG, TIG, Stick
__
Assembled
00000000
000000

Lipped Shelf

Tread on Core Wheels

31"
30"
9

1/2

"
1,000
27"
14"
33

1/4

"
33

1/4

"
Two Swivel Casters and Two Axle-Mounted Wheels
4", 10"
MIG, TIG, Stick
__
Assembled
00000000
000000
33

1/2

"
18

1/2

"
9

1/2

"
700
28"
14"
15"
32"
Two Swivel Casters and Two Axle-Mounted Wheels
3", 8"
MIG, TIG, Stick
__
Assembled
00000000
000000
38"
16"
9

1/2

"
1,000
28"
14"
20"
20"
Two Swivel Casters and Two Axle-Mounted Wheels
4", 10"
MIG, TIG, Stick
__
Assembled
00000000
000000

Solid Platform

Tread on Core Wheels

42"
20

1/2

"
9"
350
__
__
__
__
Two Swivel Casters and Two Axle-Mounted Wheels
2", 10"
TIG
Bracket and chain for securing a gas tank
Assembled
0000000
000000

Pneumatic Wheels

38"
30"
__
800
__
__
__
42

1/2

"
Two Swivel Casters and Two Axle-Mounted Wheels
5", 16"
MIG, TIG, Stick
__
Assembled
00000000
000000