Sanding Drum and Sleeve Assortments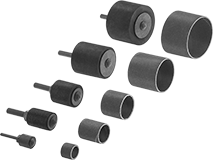 These assortments include a variety of sanding drums and sleeves to shape, deburr, and sand edges and internal surfaces.
Assortments with a quick-change attachment require no additional tools to switch out drums and sleeves. Twist the drum head by hand to tighten the sanding sleeve to the drum.
For technical drawings and 3-D models, click on a part number.
Number
of Pieces
Shank


Dia.

Drum
Material
Material
Backing
Material
For Use On
Includes
Each

Assortments

7

3/8

"
Rubber
Aluminum Oxide
Cloth
Steel, Wood
two each of 50-, 80-, and 120-grit sleeves for each size drum (6 sleeves total) and One drum in this size (Dia. × Lg.): 3" × 3"
0000000
000000
12

1/4

"
Rubber
Aluminum Oxide
Cloth
Steel, Wood
Three drums in these sizes (Dia. × Lg.):

1/2

" × 3", 1" × 3", 1

1/2

" × 3" and one each of 50-, 80-, and 120-grit sleeves for each size drum (9 sleeves total)
0000000
00000
16

1/4

"
Rubber
Aluminum Oxide
Cloth
Steel, Wood
Four drums in these sizes (Dia. × Lg.):

1/2

" × 2",

3/4

" × 2", 1" × 2", and 1

1/2

" × 2" and one each of 50-, 80-, and 120-grit sleeves for each size drum (12 sleeves total)
0000000
00000
20

1/8

"
Rubber
Aluminum Oxide
Cloth
Steel, Wood
Five drums in these sizes (Dia. × Lg.):

3/8

" ×

1/2

",

1/2

" ×

1/2

",

1/2

" ×

3/4

",

3/4

" ×

1/2

", and

3/4

" ×

3/4

" and one each of 50-, 80-, and 120-grit sleeves for each size drum (15 sleeves total)
0000000
00000
20

1/4

"
Rubber
Aluminum Oxide
Cloth
Steel, Wood
Five drums in these sizes (Dia. × Lg.):

1/2

" ×

1/2

",

3/4

" × 1", 1" × 1", 1

1/2

" × 1

1/2

", and 2" × 1

1/2

" and one each of 50-, 80-, and 120-grit sleeves for each size drum (15 sleeves total)
0000000
00000
96

1/4

"
Rubber
Aluminum Oxide
Cloth
Steel, Wood
Six drums in these sizes (Dia. × Lg.):

1/2

" ×

1/2

",

3/4

" × 1", 1" × 1", 1

1/2

" × 1

1/2

", 2" x 1

1/2

", and 3" × 1" and five each of 36-, 50-, and 120-grit sleeves for each size drum (90 sleeves total)
0000000
000000

Assortments with

Quick-Change

Attachment

12

1/4

"
Rubber
Aluminum Oxide
Cloth
Steel, Wood
Three drums in these sizes (Dia. × Lg.):

1/2

" × 3", 1" × 3", 1

1/2

" × 3" and one each of 50-, 80-, and 120-grit sleeves for each size drum (9 sleeves total)
0000000
00000
16

1/4

"
Rubber
Aluminum Oxide
Cloth
Steel, Wood
Four drums in these sizes (Dia. × Lg.):

1/2

" × 2",

3/4

" × 2", 1" × 2", and 1

1/2

" × 2" and one each of 50-, 80-, and 120-grit sleeves for each size drum (12 sleeves total)
0000000
00000
20

1/4

"
Rubber
Aluminum Oxide
Cloth
Steel, Wood
Five drums in these sizes (Dia. × Lg.):

1/2

" ×

1/2

",

3/4

" × 1", 1" × 1", 1

1/2

" × 1

1/2

", and 2" × 1

1/2

" and one each of 50-, 80-, and 120-grit sleeves for each size drum (15 sleeves total)
0000000
00000