Water-Resistant

Sanding Rolls for

Aluminum,

Soft

Metals,

and Nonmetals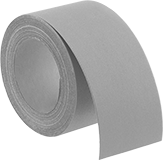 These rolls resist deterioration when used wet or with grease, chemicals, cutting fluids, and other solvents that may be present when sanding. They can be cut to length.
Wd.

For
Use
On
Abrasive
Material
Abrasive
Backing
Material
Sanding
Properties
Grit
Each

For Polished Finish

3"
Aluminum, Brass, Bronze, Copper, Plastic, Rubber
Silicon Carbide
Paper
Water Resistant
4000
000000000
000000
Super-Flexible

Cushioned Hook and Loop Sanding Discs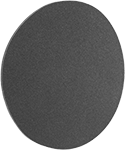 Made of foam, these discs can conform to contoured shapes, corners, and sharp edges. Quickly attach, remove, and reuse with a compatible sanding tool or backup pad (sold separately). Discs resist deterioration when used wet.
For technical drawings and 3-D models, click on a part number.
Dia.

Abrasive
Material
Abrasive
Backing
Material
Sanding
Properties
For
Use
On
For
Use
With
Grit
Each

For Polished Finish

6"
Silicon Carbide
Foam
Water Resistant
Steel, Wood
Portable Disc Sanders, Stationary Disc Sanders
4000
0000000
00000