Sanitary
Quick-Clamp

Pressure-Relief

Discs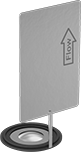 If the pressure in your food or beverage line rises too high, these discs burst open to release the flow, preventing injuries and equipment damage. Secure them with a clamp between two sanitary quick-clamp fittings; there's no need for special holders or installation equipment. They're good for sanitary applications such as clean-in-place (CIP) because they're made of 316 stainless steel to resist corrosion and have smooth surfaces to keep food and bacteria from accumulating. All meet ASME standards for sanitary environments, as well as for the quality and safety of rupture discs. These discs are for one-time use.
Discs with an EPDM gasket resist water and steam, so they work well in humid environments.
Discs with a silicone gasket withstand high temperatures.
Discs with a Viton® fluoroelastomer gasket stand up to oil and acid condensates.
Operating ratio is the ratio between the normal operating pressure and the burst pressure. Exceeding the operating ratio decreases the service life of the disc. For example, a disc with a burst pressure of 100 psi and an operating ratio of 90% should not be used in a system with an operating pressure greater than 90 psi.
For technical drawings and 3-D models, click on a part number.
Burst


Pressure,

psi
For
Tube
OD
For
Flange
OD
Operating
Ratio
Maximum


Temperature,




°F

Surface


Smoothness,


microinch
Specifications
Met
Each

316 Stainless Steel Discs

EPDM Rubber Gasket

20
3"
3.579"
90%
300°
12
ASME BPE, ASME BPVC.VIII.1
00000000
000000000
20
4"
4.682"
90%
300°
8
ASME BPE, ASME BPVC.VIII.1
00000000
00000000
25
3"
3.579"
90%
300°
12
ASME BPE, ASME BPVC.VIII.1
00000000
00000000
25
4"
4.682"
90%
300°
8
ASME BPE, ASME BPVC.VIII.1
0000000
00000000
30
2"
2.516"
90%
300°
8
ASME BPE, ASME BPVC.VIII.1
00000000
00000000
30
3"
3.579"
90%
300°
12
ASME BPE, ASME BPVC.VIII.1
00000000
00000000
30
4"
4.682"
90%
300°
8
ASME BPE, ASME BPVC.VIII.1
00000000
00000000
40
1"
1.984"
90%
300°
8
ASME BPE, ASME BPVC.VIII.1
0000000
00000000
40
1

1/2

"
1.984"
90%
300°
8
ASME BPE, ASME BPVC.VIII.1
00000000
00000000
40
2"
2.516"
90%
300°
8
ASME BPE, ASME BPVC.VIII.1
00000000
00000000
40
3"
3.579"
90%
300°
12
ASME BPE, ASME BPVC.VIII.1
00000000
00000000
40
4"
4.682"
90%
300°
8
ASME BPE, ASME BPVC.VIII.1
00000000
00000000
50
1"
1.984"
90%
300°
8
ASME BPE, ASME BPVC.VIII.1
00000000
00000000
50
1

1/2

"
1.984"
90%
300°
8
ASME BPE, ASME BPVC.VIII.1
00000000
00000000
50
2"
2.516"
90%
300°
8
ASME BPE, ASME BPVC.VIII.1
00000000
00000000
50
3"
3.579"
90%
300°
12
ASME BPE, ASME BPVC.VIII.1
0000000
00000000
50
4"
4.682"
90%
300°
8
ASME BPE, ASME BPVC.VIII.1
00000000
00000000
60
1"
1.984"
90%
300°
8
ASME BPE, ASME BPVC.VIII.1
00000000
00000000
60
1

1/2

"
1.984"
90%
300°
8
ASME BPE, ASME BPVC.VIII.1
00000000
00000000
60
2"
2.516"
90%
300°
8
ASME BPE, ASME BPVC.VIII.1
00000000
00000000
60
3"
3.579"
90%
300°
12
ASME BPE, ASME BPVC.VIII.1
00000000
00000000
60
4"
4.682"
90%
300°
8
ASME BPE, ASME BPVC.VIII.1
00000000
00000000
70
1"
1.984"
90%
300°
8
ASME BPE, ASME BPVC.VIII.1
00000000
00000000
70
1

1/2

"
1.984"
90%
300°
8
ASME BPE, ASME BPVC.VIII.1
00000000
00000000
70
2"
2.516"
90%
300°
8
ASME BPE, ASME BPVC.VIII.1
00000000
00000000
70
3"
3.579"
90%
300°
12
ASME BPE, ASME BPVC.VIII.1
00000000
00000000
70
4"
4.682"
90%
300°
8
ASME BPE, ASME BPVC.VIII.1
00000000
00000000
75
1"
1.984"
90%
300°
8
ASME BPE, ASME BPVC.VIII.1
00000000
00000000
75
1

1/2

"
1.984"
90%
300°
8
ASME BPE, ASME BPVC.VIII.1
00000000
00000000
75
2"
2.516"
90%
300°
8
ASME BPE, ASME BPVC.VIII.1
00000000
00000000
75
3"
3.579"
90%
300°
12
ASME BPE, ASME BPVC.VIII.1
00000000
00000000
100
1"
1.984"
90%
300°
8
ASME BPE, ASME BPVC.VIII.1
00000000
00000000
100
1

1/2

"
1.984"
90%
300°
8
ASME BPE, ASME BPVC.VIII.1
00000000
00000000
100
2"
2.516"
90%
300°
8
ASME BPE, ASME BPVC.VIII.1
0000000
00000000
115
1"
1.984"
90%
300°
8
ASME BPE, ASME BPVC.VIII.1
00000000
00000000
115
1

1/2

"
1.984"
90%
300°
8
ASME BPE, ASME BPVC.VIII.1
00000000
00000000
115
2"
2.516"
90%
300°
8
ASME BPE, ASME BPVC.VIII.1
00000000
00000000
120
1"
1.984"
90%
300°
8
ASME BPE, ASME BPVC.VIII.1
00000000
00000000
120
1

1/2

"
1.984"
90%
300°
8
ASME BPE, ASME BPVC.VIII.1
00000000
00000000
125
1"
1.984"
90%
300°
8
ASME BPE, ASME BPVC.VIII.1
00000000
00000000
150
1"
1.984"
90%
300°
8
ASME BPE, ASME BPVC.VIII.1
00000000
00000000

Silicone Rubber Gasket

20
3"
3.579"
90%
400°
12
ASME BPE, ASME BPVC.VIII.1
000000
00000000
20
4"
4.682"
90%
400°
8
ASME BPE, ASME BPVC.VIII.1
00000000
00000000
25
3"
3.579"
90%
400°
12
ASME BPE, ASME BPVC.VIII.1
00000000
00000000
25
4"
4.682"
90%
400°
8
ASME BPE, ASME BPVC.VIII.1
00000000
00000000
30
2"
2.516"
90%
400°
8
ASME BPE, ASME BPVC.VIII.1
00000000
00000000
30
3"
3.579"
90%
400°
12
ASME BPE, ASME BPVC.VIII.1
00000000
00000000
30
4"
4.682"
90%
400°
8
ASME BPE, ASME BPVC.VIII.1
00000000
00000000
40
1"
1.984"
90%
400°
8
ASME BPE, ASME BPVC.VIII.1
00000000
00000000
40
1

1/2

"
1.984"
90%
400°
8
ASME BPE, ASME BPVC.VIII.1
00000000
00000000
40
2"
2.516"
90%
400°
8
ASME BPE, ASME BPVC.VIII.1
00000000
00000000
40
3"
3.579"
90%
400°
12
ASME BPE, ASME BPVC.VIII.1
00000000
00000000
40
4"
4.682"
90%
400°
8
ASME BPE, ASME BPVC.VIII.1
00000000
00000000
50
1"
1.984"
90%
400°
8
ASME BPE, ASME BPVC.VIII.1
00000000
00000000
50
1

1/2

"
1.984"
90%
400°
8
ASME BPE, ASME BPVC.VIII.1
00000000
00000000
50
2"
2.516"
90%
400°
8
ASME BPE, ASME BPVC.VIII.1
0000000
00000000
50
3"
3.579"
90%
400°
12
ASME BPE, ASME BPVC.VIII.1
00000000
00000000
50
4"
4.682"
90%
400°
8
ASME BPE, ASME BPVC.VIII.1
00000000
00000000
60
1"
1.984"
90%
400°
8
ASME BPE, ASME BPVC.VIII.1
00000000
00000000
60
1

1/2

"
1.984"
90%
400°
8
ASME BPE, ASME BPVC.VIII.1
00000000
00000000
60
2"
2.516"
90%
400°
8
ASME BPE, ASME BPVC.VIII.1
00000000
00000000
60
3"
3.579"
90%
400°
12
ASME BPE, ASME BPVC.VIII.1
00000000
00000000
60
4"
4.682"
90%
400°
8
ASME BPE, ASME BPVC.VIII.1
00000000
00000000
70
1"
1.984"
90%
400°
8
ASME BPE, ASME BPVC.VIII.1
00000000
00000000
70
1

1/2

"
1.984"
90%
400°
8
ASME BPE, ASME BPVC.VIII.1
00000000
00000000
70
2"
2.516"
90%
400°
8
ASME BPE, ASME BPVC.VIII.1
00000000
00000000
70
3"
3.579"
90%
400°
12
ASME BPE, ASME BPVC.VIII.1
00000000
00000000
70
4"
4.682"
90%
400°
8
ASME BPE, ASME BPVC.VIII.1
00000000
00000000
75
1"
1.984"
90%
400°
8
ASME BPE, ASME BPVC.VIII.1
00000000
00000000
75
1

1/2

"
1.984"
90%
400°
8
ASME BPE, ASME BPVC.VIII.1
0000000
00000000
75
2"
2.516"
90%
400°
8
ASME BPE, ASME BPVC.VIII.1
00000000
00000000
75
3"
3.579"
90%
400°
12
ASME BPE, ASME BPVC.VIII.1
00000000
00000000
100
1"
1.984"
90%
400°
8
ASME BPE, ASME BPVC.VIII.1
00000000
00000000
100
1

1/2

"
1.984"
90%
400°
8
ASME BPE, ASME BPVC.VIII.1
00000000
00000000
100
2"
2.516"
90%
400°
8
ASME BPE, ASME BPVC.VIII.1
00000000
00000000
115
1"
1.984"
90%
400°
8
ASME BPE, ASME BPVC.VIII.1
0000000
00000000
115
1

1/2

"
1.984"
90%
400°
8
ASME BPE, ASME BPVC.VIII.1
00000000
00000000
115
2"
2.516"
90%
400°
8
ASME BPE, ASME BPVC.VIII.1
00000000
00000000
120
1"
1.984"
90%
400°
8
ASME BPE, ASME BPVC.VIII.1
00000000
00000000
120
1

1/2

"
1.984"
90%
400°
8
ASME BPE, ASME BPVC.VIII.1
00000000
00000000
125
1"
1.984"
90%
400°
8
ASME BPE, ASME BPVC.VIII.1
00000000
00000000
150
1"
1.984"
90%
400°
8
ASME BPE, ASME BPVC.VIII.1
00000000
00000000

Viton® Fluoroelastomer Rubber Gasket

20
3"
3.579"
90%
400°
12
ASME BPE, ASME BPVC.VIII.1
00000000
00000000
20
4"
4.682"
90%
400°
8
ASME BPE, ASME BPVC.VIII.1
00000000
00000000