Concrete Floats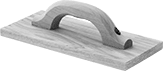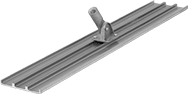 B
Use floats after edging and grooving to smooth the surface and allow trapped air and water to escape.
Style B floats accept a handle (sold separately). The handle is male on one end and female on the other, so multiple handles can be connected for longer reach.
Grout Floats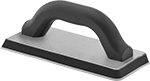 Smooth and spread grout between tiles.
Lg.

Wd.

Thick.

Material
Backing
Material

Lg.

Material
Each
9"
4"

5/8

"
Rubber
Aluminum
7

1/2

"
Plastic
0000000
000000