Toggle Bolt Anchor Assortments for
Drywall,

Plaster,

and Wood Paneling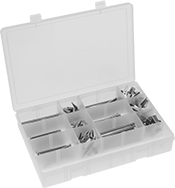 A wing-like toggle holds against the back of the material and spreads the force over a large area to hold 30 lbs. or more. The bolt is reusable, but the toggle will fall behind the wall when the bolt is removed. To install, insert the bolt through your fixture and thread the toggle onto it. Next, fold the toggle wings flush against the bolt and push them through a drilled hole until they pop open on the other side. Pull back on the bolt and tighten. Bolts are zinc-plated steel to resist corrosion in wet environments.
Number
of Pieces
Toggle Bolts Included
Container
Type
Each
100

1/8

" × 3" Lg. (25 Pieces)


1/8

" × 4" Lg. (25 Pieces)


3/16

" × 3" Lg. (15 Pieces)


3/16

" × 4" Lg. (15 Pieces)


1/4

" × 3" Lg. (10 Pieces)


1/4

" × 4" Lg. (10 Pieces)
Plastic Box
000000000
0000000
Removable-Screw

Anchor Assortments
for

Drywall,

Plaster,

and Wood Paneling
Use these light duty anchors to hold 20 lbs. or less. Once installed, screws can be removed repeatedly without affecting the anchor. Install flush with the surface. Then, thread the screw through your fixture, into the anchor, and tighten. For high volume tasks, use an optional installation tool—it doesn't require any twisting.
Number
of Pieces

Hammer-In

Drywall
Anchors Included

Drill-In

Drywall Anchors Included
Container
Type
Each

Steel

230
6-32 × 1

5/16

" (50 Pieces)
6-32 × 1

11/16

" (25 Pieces)
6-32 × 2

1/4

" (25 Pieces)
6-32 × 1" (25 Pieces)
6-32 × 1

1/2

" (25 Pieces)
6-32 × 2" (25 Pieces)
6-32 × 2

1/2

" (20 Pieces)
10-24 × 2

1/4

" (10 Pieces)
10-24 × 2

3/4

" (10 Pieces)


1/4

"-20 × 2

1/4

" (10 Pieces)


1/4

"-20 × 2

3/4

" (5 Pieces)
Plastic Box
000000000
0000000
| | | | |
| --- | --- | --- | --- |
| Optional Installation Tool | 000000000 | Each | 000000 |