Steel
Female-Threaded

Anchors for Concrete

Anchor
A zinc plating provides corrosion resistance in wet environments. Also known as drop-in anchors, these are often used for overhead applications because the anchor's internal plug expands in four directions to hold the anchor firmly inside the hole before inserting a threaded rod or bolt. To install, place the anchor into the hole, insert the required installation tool (sold separately) into the anchor, and drive with a hammer until the thicker portion of the tool makes contact with the anchor. Pull-out strength and shear strength values are 25% of the ultimate values for normal-weight concrete.
Anchors can be installed below the base of the surface as well as flush with the surface. Use those with a coil thread to support temporary concrete formwork. Their threads are shallow and widely spaced for quick threading with a compatible rod or bolt.
For technical drawings and 3-D models, click on a part number.
Thread
Size

Lg.

Drill
Bit
Size

Min.


Installation


Dp.

Dia.

Thread


Dp.

Pull-Out

Shear
Tested
In
Specifications
Met

Pkg.




Qty.

Pkg.

Anchor with Coil Threads

3/4

"-4

1/2

3

3/16

"
1"
3

3/16

"
1"
1

3/8

"
2,350
3,920
4,000 psi Concrete
FM Approved, UL Listed
1
000000000
000000
Quick-Clamping

Coil-Threaded

Rods,

Screws,

and Nuts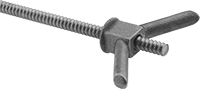 Combine fast-threading components to build a clamping assembly. The coil-style threads are shallow and widely spaced for quick threading.
Flange nuts have a large bearing surface to cover holes and resist vibration.
Wing nuts can be fastened by hand.