About Structural Adhesives
Matte Duct Tape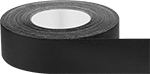 Also known as gaffer's tape, this conformable cloth tape leaves no residue when removed. The matte finish won't reflect light. Choose a color that will blend in for temporary repairs.
Wd.

Lg.,




ft.

Overall


Thick.

Material
Facing
Material
Adhesive
Type
Temperature


Range,

°F

Tensile

Strength,




lbs./in.

wd.

Adhesion
to

Steel,




oz./in.

wd.

Color
Each
2"
165
0.011"
Cloth
Vinyl Plastic
Rubber
50° to 200°
50
80
Teal
0000000
000000
Anchoring Adhesives for Concrete
Permanently set threaded rods, studs, and rebar in dry concrete with these two-part epoxies. They form a weather-resistant chemical bond that seals out moisture and resists vibration and dynamic loads better than mechanical anchors. The size listed is the combined total of the two parts. Warning: Allowable pull-out strength is 25% of ultimate values or less, as required by building authorities.
Adhesives in cartridges can also be used in damp concrete. Use a mixer nozzle and dispensing gun (dispensing gun sold separately) to simultaneously mix and dispense adhesive.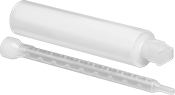 8.5-oz.
and
10.1-oz.
Cartridges
Container


Size,




oz.

Begins
to
Harden
Reaches
Full
Strength

No.

of

1/2"

Dia.

Rods
Set at

4 1/2"


Installation

Dp.

Ultimate

Pull-Out


Strength


(in 4,000 psi Concrete)

Mix
Ratio
Consistency

Temp.




Range,




°F

Color
Each
8.5
5 min. @ 40° F
48 hrs.
14 in

5/8

" dia. hole
8,600 lbs.—

3/8

" threaded rod dia. × 3

1/2

" installation dp.
15,300 lbs.—

1/2

" threaded rod dia. × 4

1/2

" installation dp.
22,500 lbs.—

5/8

" threaded rod dia. × 5

5/8

" installation dp.
35,000 lbs.—

3/4

" threaded rod dia. × 6

3/4

" installation dp.
43,500 lbs.—

7/8

" threaded rod dia. × 7

7/8

" installation dp.
47,000 lbs.—1" threaded rod dia. × 9" installation dp.
67,200 lbs.—1

1/4

" threaded rod dia. × 11

1/4

" installation dp.
1:1
Paste
50° to 110°
Teal
000000
000000