About Carbon
Steel,

Alloy

Steel,

Spring

Steel,

and Cast Iron
Ultra-Wear-Resistant

AR500 Carbon Steel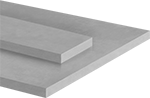 Yield

Strength:

200,

000 psi

Hardness:

Rockwell C48

(Very

Hard)
Exceptional hardness makes AR500 carbon steel more resistant to wear and impact than other carbon steel. And with a yield strength of 200,000 psi, it's also stronger. That's why it's often used to protect blades and buckets on heavy equipment, or to line truck beds and chutes. While it's too hard to bend or form, you can cut it with plasma, oxyacetylene, lasers, water jets, or abrasive cutoff saws.
For technical drawings and 3-D models, click on a part number.

Certificates with a traceable lot number are available for these products. Download certificates from ORDER HISTORY after your order ships.
Thick.

Thick.

Tolerance
Heat
Treatment
Each

1/8

"
-0.01" to 0.03"
Hardened
00000000
000000

3/16

"
-0.01" to 0.03"
Hardened
00000000
00000

1/4

"
-0.01" to 0.03"
Hardened
00000000
00000

3/8

"
-0.01" to 0.03"
Hardened
00000000
00000

1/2

"
-0.01" to 0.03"
Hardened
00000000
00000

3/4

"
-0.01" to 0.03"
Hardened
00000000
00000
1"
-0.01" to 0.03"
Hardened
00000000
00000

1/8

"
-0.01" to 0.03"
Hardened
00000000
00000

3/16

"
-0.01" to 0.03"
Hardened
00000000
00000

1/4

"
-0.01" to 0.03"
Hardened
00000000
00000

3/8

"
-0.01" to 0.03"
Hardened
00000000
00000

1/2

"
-0.01" to 0.03"
Hardened
00000000
00000

3/4

"
-0.01" to 0.03"
Hardened
00000000
000000
1"
-0.01" to 0.03"
Hardened
00000000
000000

1/8

"
-0.01" to 0.03"
Hardened
00000000
00000

3/16

"
-0.01" to 0.03"
Hardened
00000000
00000

1/4

"
-0.01" to 0.03"
Hardened
00000000
000000

3/8

"
-0.01" to 0.03"
Hardened
00000000
000000

1/2

"
-0.01" to 0.03"
Hardened
00000000
000000

3/4

"
-0.01" to 0.03"
Hardened
00000000
000000
1"
-0.01" to 0.03"
Hardened
00000000
000000

1/8

"
-0.01" to 0.03"
Hardened
00000000
000000

3/16

"
-0.01" to 0.03"
Hardened
00000000
000000

1/4

"
-0.01" to 0.03"
Hardened
00000000
000000

3/8

"
-0.01" to 0.03"
Hardened
00000000
000000

1/2

"
-0.01" to 0.03"
Hardened
00000000
000000

3/4

"
-0.01" to 0.03"
Hardened
00000000
000000
1"
-0.01" to 0.03"
Hardened
00000000
000000

1/8

"
-0.01" to 0.03"
Hardened
00000000
000000

3/16

"
-0.01" to 0.03"
Hardened
00000000
000000

1/4

"
-0.01" to 0.03"
Hardened
00000000
000000

3/8

"
-0.01" to 0.03"
Hardened
00000000
000000

1/2

"
-0.01" to 0.03"
Hardened
00000000
000000

3/4

"
-0.01" to 0.03"
Hardened
00000000
000000
1"
-0.01" to 0.03"
Hardened
00000000
000000