Color-Coded

Slotted Shim Sets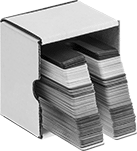 Keep slotted shims in a variety of thicknesses on hand with these sets, which are color-coded by thickness for easy identification. The slot lets you insert, remove, and adjust the shims without disassembling your machinery. Shims are corrosion resistant.
Painted aluminum shims are stronger than plastic shims.
Plastic shims work well in light duty applications.
For technical drawings and 3-D models, click on a part number.
Trade
Size

No.


of
Pieces
Includes

Lg.

Wd.

Wd.

Dp.

For

Max.


Screw
Size
Minimum
Hardness
Magnetic
Properties
Each
AA
160
20 0.002" thick (±0.0002") red 1200 Aluminum shims
20 0.003" thick (±0.0003") green 1200 Aluminum shims
20 0.004" thick (±0.0004") beige 1100 Aluminum shims
20 0.005" thick (±0.0005") blue 1200 Aluminum shims
20 0.010" thick (±0.001") brown 1100 Aluminum shims
20 0.015" thick (±0.0015") pink 3003 Aluminum shims
20 0.020" thick (±0.002") yellow 3003 Aluminum shims
20 0.030" thick (±0.003") coral 3003 Aluminum shims
1

1/2

"
1

1/2

"

3/8

"

15/16

"
5/16"
Brinell 32
Nonmagnetic
0000000
000000
A
180
20 0.002" thick (±0.0002") red 1200 Aluminum shims
20 0.003" thick (±0.0003") green 1200 Aluminum shims
20 0.004" thick (±0.0004") beige 1100 Aluminum shims
20 0.005" thick (±0.0005") blue 1200 Aluminum shims
20 0.010" thick (±0.001") brown 1100 Aluminum shims
20 0.015" thick (±0.0015") pink 3003 Aluminum shims
20 0.020" thick (±0.002") yellow 3003 Aluminum shims
20 0.030" thick (±0.003") coral 3003 Aluminum shims
20 0.060" thick (±0.006") gray 3003 Aluminum shims
2"
2"

7/16

"
1

7/32

"
3/8"
Brinell 32
Nonmagnetic
0000000
00000
B
180
20 0.002" thick (±0.0002") red 1200 Aluminum shims
20 0.003" thick (±0.0003") green 1200 Aluminum shims
20 0.004" thick (±0.0004") beige 1100 Aluminum shims
20 0.005" thick (±0.0005") blue 1200 Aluminum shims
20 0.010" thick (±0.001") brown 1100 Aluminum shims
20 0.015" thick (±0.0015") pink 3003 Aluminum shims
20 0.020" thick (±0.002") yellow 3003 Aluminum shims
20 0.030" thick (±0.003") coral 3003 Aluminum shims
20 0.060" thick (±0.006") gray 3003 Aluminum shims
3"
3"

9/16

"
1

25/32

"
1/2"
Brinell 32
Nonmagnetic
0000000
000000
C
160
20 0.002" thick (±0.0002") red 1200 Aluminum shims
20 0.003" thick (±0.0003") green 1200 Aluminum shims
20 0.004" thick (±0.0004") beige 1100 Aluminum shims
20 0.005" thick (±0.0005") blue 1200 Aluminum shims
20 0.010" thick (±0.001") brown 1100 Aluminum shims
20 0.015" thick (±0.0015") pink 3003 Aluminum shims
20 0.020" thick (±0.002") yellow 3003 Aluminum shims
20 0.030" thick (±0.003") coral 3003 Aluminum shims
4"
4"
1"
2

1/2

"
7/8"
Brinell 32
Nonmagnetic
0000000
000000
Trade
Size

No.


of
Pieces
Includes
Material

Lg.

Wd.

Wd.

Dp.

For

Max.


Screw
Size

Max.




Temperature,




°F

Each
AA
180
20 0.002" thick (±0.0002") red shims
20 0.003" thick (±0.0002") green shims
20 0.004" thick (±0.0002") beige shims
20 0.005" thick (±0.0002") blue shims
20 0.010" thick (±0.0005") brown shims
20 0.015" thick (±0.0015") pink shims
20 0.020" thick (±0.002") yellow shims
20 0.030" thick (±0.003") coral shims
20 0.060" thick (±0.006") clear shims
Polyester Plastic
1

1/2

"
1

1/2

"

3/8

"

15/16

"
5/16"
140°
0000000
000000
A
180
20 0.002" thick (±0.0002") red shims
20 0.003" thick (±0.0002") green shims
20 0.004" thick (±0.0002") beige shims
20 0.005" thick (±0.0002") blue shims
20 0.010" thick (±0.0005") brown shims
20 0.015" thick (±0.0015") pink shims
20 0.020" thick (±0.002") yellow shims
20 0.030" thick (±0.003") coral shims
20 0.060" thick (±0.006") clear shims
Polyester Plastic
2"
2"

7/16

"
1

7/32

"
3/8"
140°
0000000
00000
B
180
20 0.002" thick (±0.0002") red shims
20 0.003" thick (±0.0002") green shims
20 0.004" thick (±0.0002") beige shims
20 0.005" thick (±0.0002") blue shims
20 0.010" thick (±0.0005") brown shims
20 0.015" thick (±0.0015") pink shims
20 0.020" thick (±0.002") yellow shims
20 0.030" thick (±0.003") coral shims
20 0.060" thick (±0.006") clear shims
Polyester Plastic
3"
3"

9/16

"
1

25/32

"
1/2"
140°
0000000
000000
C
180
20 0.002" thick (±0.0002") red shims
20 0.003" thick (±0.0002") green shims
20 0.004" thick (±0.0002") beige shims
20 0.005" thick (±0.0002") blue shims
20 0.010" thick (±0.0005") brown shims
20 0.015" thick (±0.0015") pink shims
20 0.020" thick (±0.002") yellow shims
20 0.030" thick (±0.003") coral shims
20 0.060" thick (±0.006") clear shims
Polyester Plastic
4"
4"
1"
2

1/2

"
7/8"
140°
0000000
000000