Flanged Washers for
Cross-Bracing
These washers have a flange to spread force across structural beams better than standard washers for cross-bracing rods and cables. Their top surface is curved to let rods pass through and be secured with a nut at different angles. The bottom surface is flat to sit flush with structural beams. These washers have a locking tab that keeps them in place when force is applied. They're also known as hillside washers.
Galvanized washers resist corrosion better than primed washers.
For technical drawings and 3-D models, click on a part number.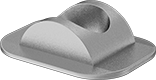 Galvanized Cast Iron