Made-to-Order

Press-Fit

Drill Bushings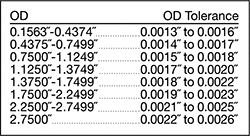 Mount flush with jig plates for precise drilling. These bushings can also be used as spacers, shims, and machinery bushings.
To Order: Specify ID, OD, and length from the ranges listed. The difference between the ID and OD must be at least 0.07".
For technical drawings and 3-D models, click on a part number.
Choose
an
ID
Choose
an
OD
Choose
a
Length
Length
Tolerance
Drill
Bushing
Type
Material
Hardness

1-5

6-11

12-Up

0.0135" to 2.2656" in 0.0001" increments
0.1562" to 2.7500" in 0.0001" increments
0.125" to 3" in 0.0625" increments
-0.015" to 0.015"
P
Steel
Rockwell C61
00000000
000000
000000
000000