Socket Casters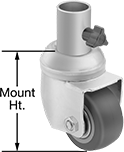 Swivel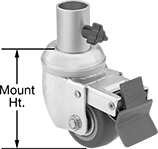 Swivel with Brake
Slide the socket onto equipment legs and tighten the thumb screw. Wheels have a hard polypropylene core for strength under a polyurethane tread that combines the abrasion resistance of plastic with the shock-absorbing qualities of rubber. They can be used on smooth and rough floors and in areas with debris. Ball bearings in the wheel provide easy rolling. Casters have double-ball swivel bearings for the smoothest swiveling.
Casters with a wheel brake apply pressure to the wheel to stop movement with a press of the foot pedal.
For technical drawings and 3-D models, click on a part number.
For
Tube
OD

Dia.

Wd.

Mount


Ht.

Cap.

per


Caster,




lbs.

Hardness
Type
Seal
Type
Frame
Material
Type
Seal
Type
Each

Swivel

Nonmarking Red

Tread-on-Core

Polyurethane

Rubber—

Firm

3/4

"-1"
2

1/2

"
1

1/4

"
3

13/16

"
300
Durometer 90A
Ball
Open
Zinc-Plated Steel
Double Ball
Open
0000000
000000
1"-1

1/4

"
2

1/2

"
1

1/4

"
3

13/16

"
300
Durometer 90A
Ball
Open
Zinc-Plated Steel
Double Ball
Open
0000000
00000
1

1/4

"-1

1/2

"
2

1/2

"
1

1/4

"
3

13/16

"
300
Durometer 90A
Ball
Open
Zinc-Plated Steel
Double Ball
Open
0000000
00000

Swivel with Brake

Nonmarking Red

Tread-on-Core

Polyurethane

Rubber—

Firm

3/4

"-1"
2

1/2

"
1

1/4

"
3

13/16

"
300
Durometer 90A
Ball
Open
Zinc-Plated Steel
Double Ball
Open
0000000
00000
1"-1

1/4

"
2

1/2

"
1

1/4

"
3

13/16

"
300
Durometer 90A
Ball
Open
Zinc-Plated Steel
Double Ball
Open
0000000
00000
1

1/4

"-1

1/2

"
2

1/2

"
1

1/4

"
3

13/16

"
300
Durometer 90A
Ball
Open
Zinc-Plated Steel
Double Ball
Open
0000000
00000